Tubeimoside A(Rhizoma Bolbostemmae Extract)
Tubeimoside A(Rhizoma Bolbostemmae Extract)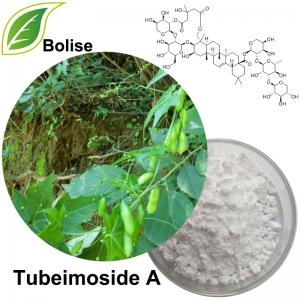 Detection method: HPLC 
Botanical Name:  Bolbostemma paniculatum (Maxim. ) Franquet.
About Tubeimoside A:
Tubeimoside A, a new cyclic bisdesmoside from tubers of Bolbostemma paniculatum, appears to exhibit various biological activities, including antitumor effect, but the function and mechanism of this new agent on glioblastoma cells has not previously been determined. In the present study, we investigated the proliferation change of human glioblastoma U87MG cells exposured to different concentrations (0.9-14.8 microM) of Tubeimoside A for a certain time. The results showed that Tubeimoside A significantly suppressed U87MG cell proliferation in a time- and dose-dependent manner (IC(50) = 3.6 microM). Flow cytometric analysis of DNA in U87MG cells showed that Tubeimoside A induces the prominent appearance of a sub-G1 peak in the cell cycle suggestive of apoptosis. Furthermore, U87MG cells' treatment with Tubeimoside A resulted in nuclear condensation with apoptotic bodies observed by both fluorescence and electron microscopy.
For more information of product, please send the email to bkherb@globals-globals.com


After send online enquiry, we will reply you as soon as possible, if not get any response on time please contact us by Tel or Email.This form is unable to receive your inquiry from aol, hotmail, gmail or others but company email address.
E-MAIL:bkherb@globals-globals.com
TEL: +86 592 536 5868
WHATSAPP: +86 189 6516 2351