Trehalose (TREHA)
Trehalose (TREHA)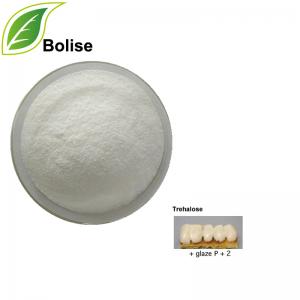 Crystalline Trehalose Dihydrate
A Multi-functional Sugar
Introduction
Trehalose is a naturally-occurring sugar with agnate functionality to sucrose but with greater adherence and beneath sweetness. It can be used by artefact developers either to advance absolute articles or to actualize avant-garde new products.
Trehalose is a non-reducing disaccharide consisting of two glucose molecules linked a, a ¡?C1,1. It has excellent process and finished product stability.
Trehalose is a multi-functional sugar. Its mild sweetness (45% sucrose), low cariogenicity, low hygroscopicity, high freezing-point depression, high glass transition temperature and protein protection properties are all of immense benefit to food technologists. Trehalose is fully caloric, has no laxative effects and after ingestion is broken down in the body to glucose. It has a moderate glycaemic index with low insulinemic response.
Formula: C12H22O11.2H2O
Molecular Weight: 378.33 daltonsPROPERTIES
Properties
Trehalose has a wide range of properties that can be utilised by food product developers.
COA of Trehalose
Appearance: Fine, White, Crystalline power,odorless
Assay: ≥98.0%                 
Loss on drying: ≤1.5%            
PH: 5.0-6.7            
Ignition residue:  0.01%            
Color in solution:  0.004            
Turbidity:  0.01            
Pb/(ug/g): ≤0.1        
As/( ug/g):  ≤0.5            
Mold and yeast(CFU/g):  ≤100            
Total plate count(CFU/g):  ≤300
Mild Sweetness
Trehalose is only 45% as sweet as sucrose. It has a clean taste profile with no aftertaste and a sweetness profile that is characterised by a rapid onset of sweetness with comparable persistence to sucrose.
Importantly, trehalose has similar functional properties to sucrose and can be used in food and beverage products in combination with sucrose and other bulk sweeteners to optimise sweetness thus allowing the full flavour of the product to be appreciated.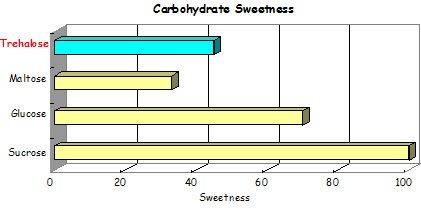 Solubility
Trehalose is readily soluble in water. It is characterised by lower solubility at low temperatures but higher solubility than sucrose at high temperatures.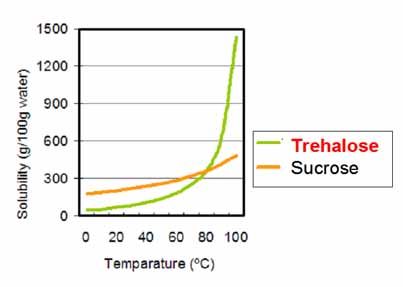 Process Stability
Trehalose is a non-reducing sugar and will not react chemically with amino acids or proteins during processing and storage. Owing to its unique chemical structure, trehalose remains stable under low pH conditions, even at elevated temperature. Unlike other disaccharides, including sucrose, it will not readily hydrolyse to its component parts and subsequently take part in Maillard reactions with amino acids and proteins.
In food and beverage products, the high stability of trehalose enables the original product characteristics to be retained even after heat processing and prolonged storage.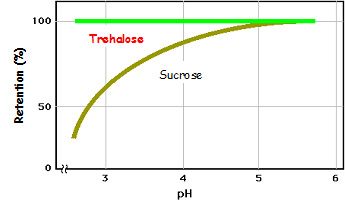 Reduction of Water Activity
Trehalose reduces water activity to the same extent as sucrose. Trehalose can therefore be used in combination with sucrose to optimise sweetness whilst maintaining product shelf life.
Low Cariogenicity
Trehalose has been shown to have substantially reduced cariogenic potential compared with sucrose and can therefore be used in the formulation of ¡®kind to teeth¡¯ and ¡®toothfriendly¡¯ products but without the laxative effects of other low-cariogenic bulk sweeteners.
Low Hygroscopicity
Crystalline trehalose is stable and remains free-flowing up to 94% relative humidity. It can reduce product caking when blended with other sugar and food ingredients. Food products or components coated with trehalose have enhanced stability, benefiting from the low hygroscopicity of the coating.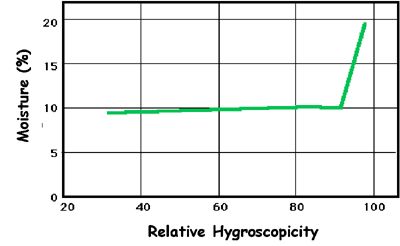 High Glass Transition Temperature
Trehalose has a high glass transition temperature compared with other disaccharides. This property, combined with its high process stability and low hygroscopicity, makes trehalose ideal as a protein protectant and ideally suited as a carrier for spray-dried flavours.
Depression of Freezing Point
Trehalose will depress the freezing point of a product to the same extent as sucrose. It can therefore be used in frozen food including ice cream to modify texture whilst providing only mild sweetness.
Applications
Trehalose, like other sugars may be used without restriction in a wide range of food products including beverages, chocolate and sugar confectionery, bakery products, frozen foods, breakfast cereals and dairy products.
Bakery Products
Trehalose has many potential uses in bakery products: It moderates sweetness in cakes and biscuits, icings, bakery creams and fruit pie filling allowing the full flavour potential of the product to be appreciated without compromising product shelf life.
It also facilitates fat reduction in sweet biscuits, bakery creams and frostings. In savoury biscuits and snacks, trehalose can be used to create innovative texture sensations. It can improve consumer acceptability by optimising sweetness in highly caloric indulgent products containing high levels of fat and sugar. Trehalose reduces moisture migration in multi-component bakery products enabling optimisation of sweetness while maintaining product shelf life.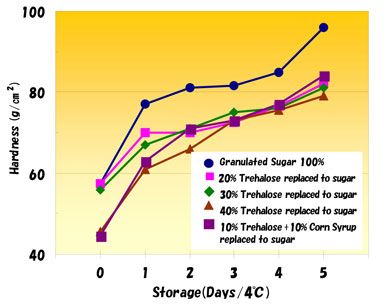 Quality Retention of Iced Bun with Trehalose 

Sugar Confectionary
In combination with other bulk sweeteners, trehalose can be used in sugar confectionery, especially in high juice and herbal products, to moderate sweetness and thus allow the product¡¯s full flavour potential to be appreciated. This is particularly important for products intended for adult consumers. Trehalose is suitable for formulating ¡®kind to teeth¡¯ products. Trehalose is highly process stable and is not hydrolysed during processing.
Trehalose can be used to enrobe confectionery products to form a stable, non-hygroscopic coating. Owing to its high process stability, solutions of trehalose can be held at elevated temperature for prolonged periods without the risk of hydrolysis or colour generation.
Trehalose is excellent for panning. The unique solubility characteristics of trehalose readily lend themselves to panning and the resulting coating is highly stable and robust with an improved whiteness relative to other bulk sweeteners.
Chocolate Confectionary
Use of trehalose moderates sweetness in chocolate confectionery. This is especially useful in filled products containing fondant creams and fruit fillings. Trehalose will also reduce moisture migration in multi-component countlines. In moulded products, the ability of trehalose to modify product sweetness offers the potential to create new chocolate taste sensations.
Due to its reduced cariogenicity, trehalose can be used to formulate ¡®kind to teeth¡¯ or ¡®toothfriendly¡¯ products either as the sole bulk sweetener or in combination with other low cariogenic bulk sweeteners.
Fruit Products
Trehalose is excellent for optimising sweetness in processed fruit products including jams, fruit sauces, yogfruit and pie fillings. This allows the full flavour potential to be appreciated without compromising shelf life and improves product performance by increasing the soluble solids in the product. Additionally, owing to the high process stability of trehalose, hydrolysis does not occur and product colour is maintained.
Trehalose can be used in condiments and savoury sauces to create new flavour sensations by moderating sweetness whilst maintaining products shelf life.
Frozen Foods
Trehalose acts like sucrose in depressing the freezing point of ice cream and other frozen foods. As it is less sweet than sucrose it can be used to create new textures in frozen foods and frozen confectionery products and provides the potential to create innovative frozen savoury products.
Beverages
Trehalose contributes mouthfeel and body to beverages but only mild sweetness. Trehalose can be used in combination with other bulk sweeteners to optimise sweetness thus enhancing overall flavour delivery. 
Alcoholic Beverages and Beer
In alcoholic fruit-based beverages, trehalose provides mouthfeel but only mild sweetness thus enhancing the fruity characteristics of the beverage.
In low alcohol and alcohol-free beers, trehalose helps simulate the mouthfeel of alcohol and its excellent stability ensures that the taste profile of the beer does not change over time.
Surimi
Trehalose is particularly effective as a cryoprotectant for surimi. As trehalose positively controls water functionality at the protein/water interface, firmness, elasticity and gel strength of the surimi is improved. The low sweetness of trehalose also enhances the taste quality of the surimi. Unlike other cryoprotectants used in surimi manufacture, trehalose does not cause ¡®throat burn¡¯ and has no laxation problems.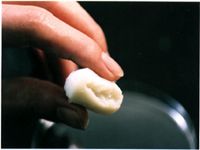 No. 7 Sucrose 8% (water 15%) 
Cooked Meats
Trehalose can help increase the water-holding capacity in cooked meats including poultry, beef and pork. It can also protect meats from protein deterioration and increase gel strength as well as stability. 
Loss of Moisture from Heated Gel of Frozen Pork Muscle Fibre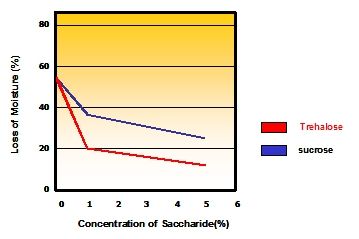 For more information of product, please send the email to bkherb@globals-globals.com


After send online enquiry, we will reply you as soon as possible, if not get any response on time please contact us by Tel or Email.This form is unable to receive your inquiry from aol, hotmail, gmail or others but company email address.
E-MAIL:bkherb@globals-globals.com
TEL: +86 592 536 5868
WHATSAPP: +86 189 6516 2351