Tetrandrine(Stephania tetrandra extract)
Tetrandrine(Stephania tetrandra extract)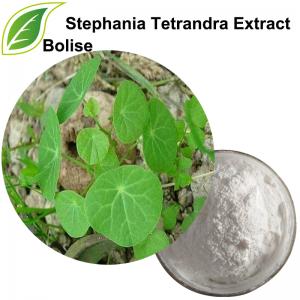 Specification: 99%Tetrandrine
Detection method: HPLC
Botanical Name:  stephania tetran dra s.moors
About Tetrandrine:
Tetrandrine is a calcium channel blocker.Tetrandrine, a bisbenzylisoquinoline alkaloid, has antitumor effects against some cancers, but its effects on gliomas are unknown. Tetrandrine had cytotoxic effects and induced apoptosis of glioma cells in a concentration- and time-dependent manner. Tetrandrine also inhibited the expression of VEGF in glioma cells, induced cytotoxicity effect on the ECV304 cells and suppressed the in vivo angiogenesis. Tetrandrine (150 mg/kg/day) had significant antitumor effects on subcutaneous tumors and led to slower tumor growth rate, longer animal survival time and higher animal survival (p < 0.05). Tetrandrine also affected intracerebral tumors and prolonged animal survival (p < 0.05) without affecting survival rate. Immunohistochemical analyses showed that the subcutaneous gliomas from tetrandrine-treated rats had fewer microvessel densities than control rats (p = 0.01). The results demonstrate that tetrandrine is cytotoxic to RT-2 glioma cells, has antitumor effects on subcutaneous and intracerebral gliomas, and inhibits angiogenesis in subcutaneous gliomas. Tetrandrine has potential as a treatment for gliomas.
For more information of product, please send the email to bkherb@globals-globals.com


After send online enquiry, we will reply you as soon as possible, if not get any response on time please contact us by Tel or Email.This form is unable to receive your inquiry from aol, hotmail, gmail or others but company email address.
E-MAIL:bkherb@globals-globals.com
TEL: +86 592 536 5868
WHATSAPP: +86 189 6516 2351