Stevia Extract
Stevia Extract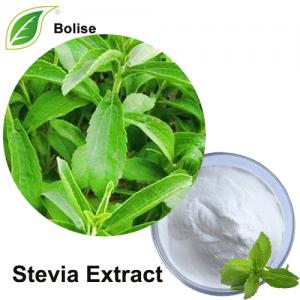 [ Botanical Name ]  Stevia Rebaudiana Bertoni
[ Used Part ]  leaves
[ Specification ]  Steviosides98%   Rebaudioside A(Reb A or RA) 40%,95% 
[ Detection methods ]  HPLC
[ Appearance ] White powder
[ Safety ] 
Stevia has been used as Food additives for more than 400 years in Paraguay. It does not join the metabolism, no toxicity which was approved by FAO & WHO. Stevia is widely used as Food Sweetener (No special limit of quantity) in Japan and also be separately approved as Natural Sweetener and Medicine medium by China Hygienic Department in 1985 and 1990.
[ High Sweetness ]
Sweetness is more 200~300 times than cane sugar. Stevioside and Rebaudiana-A are main compositions of Stevia, which taste cool, refreshing, and soft. Mixture with citric acid, amino acid, salt and other sweetener will be tasted better.
[ Low Calorie ]
Stevia is hold as Nutritional Supplement and Health Protection Food by Medical Science.400 years before, the original inhabitants in Paraguay began making use of Stevia as herb to cure influenza, fistula hyperemia. Modern medical science studied that Stevia was beneficial to regulate Blood sugar, Blood pressure, improve brain activity and helpful for Weight control, Skin care.
[ Efficiency ]
Stevia is stable to Acid, Alkali, hot, light and not fermentable. As sweetener in beverage and food, it can be bacteriostatic and protrat the expiry of qaulity guaranteed. In addition, Stevia can make nearly a 60% reduction in the cost of production, expenses of transportation and storehouse can also be saved at same time.
[ Applicability ]
Food, beverage, medicine medium, sweetener complex, pickles, cosmetics, cigarette flavour, and toothpaste, etc.
COA of Stevia Extract
Loss on drying: ≤5.0%
Ash: ≤5.0%
Mesh Size: 100% pass 80 mesh    
Stevioside: ≥97%
Sweetness: ≥300
Specific Optical Rotation:    -36°
Specific Absorbance: 0.03
Heavy metal: ≤0.001% pb
As:  ≤0.001%
Residual Pesticide:  Negative
Solvent: Water & Alcohol
Total Plate Count:  ≤100 cfu / g
Yeast & Mold:  ≤100 cfu/ g
Salmonella: Negative
E. Coli:  Negative
About Stevia Extract
Stevia is natural Green Sweetener, which is extracted from Stevia Leaves (Herbaceous herb of the Composite family) and was proved to be "Green Food" by the Center of China Green Food Development.
For more information of product, please send the email to bkherb@globals-globals.com


After send online enquiry, we will reply you as soon as possible, if not get any response on time please contact us by Tel or Email.This form is unable to receive your inquiry from aol, hotmail, gmail or others but company email address.
E-MAIL:bkherb@globals-globals.com
TEL: +86 592 536 5868
WHATSAPP: +86 189 6516 2351