Sponge Gourds Extract(Towel Gourd Extract)
Sponge Gourds Extract(Towel Gourd Extract)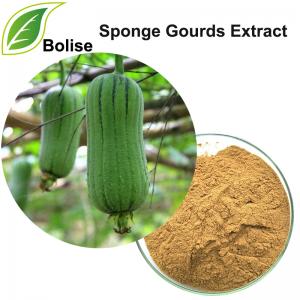 Specification: p-coumaric acid 
Detection method: HPLC
Botanical Name:  Luffa Cylindrica
About Luffa Cylindrica:
Luffa Cylindrica's dried fruit fibers are used as abrasive sponges in skin care, to remove dead skin and to stimulate the circulation. The fruits are anthelmintic, carminative, laxative, depurative, emollient, expectorant, tonic and galactagogue and are useful in fever, syphilis, tumours, bronchitis, splenopathy and leprosy. The vine is most commonly grown for the fibrous interior of the fruits. Kernel of seed is expectorant, demulcent and used in dysentery. Seed oil is used in leprosy and skin diseases. Fruit is intensely bitter and fibrous. It has purgative property and is used for dropsy, nephritis, chronic bronchitis and lung complaints.
Hydrophilic antioxidant constituents in the fruits of the vegetable Luffa cylindrica (L.) Roem (sponge gourds) were separated by an antioxidant-guided assay to yield eight compounds: (1) p-coumaric acid(2)1-O-feruloyl-߭d-glucose(3)1-O-p-coumaroyl-߭d-glucose (4)1-O-caffeoyl-߭d-glucose (5)1-O-(4-hydroxybenzoyl)glucose (6)diosmetin-7-O-߭d-glucuronide methyl ester (7)apigenin-7-O-߭d-glucuronide methyl ester (8)and luteolin-7-O-߭d-glucuronide methyl ester.
For more information of product, please send the email to bkherb@globals-globals.com


After send online enquiry, we will reply you as soon as possible, if not get any response on time please contact us by Tel or Email.This form is unable to receive your inquiry from aol, hotmail, gmail or others but company email address.
E-MAIL:bkherb@globals-globals.com
TEL: +86 592 536 5868
WHATSAPP: +86 189 6516 2351