Snowbellleaf Tickclover Herb Extract(Herba Desmodii Styracifolii Extract)
Snowbellleaf Tickclover Herb Extract(Herba Desmodii Styracifolii Extract)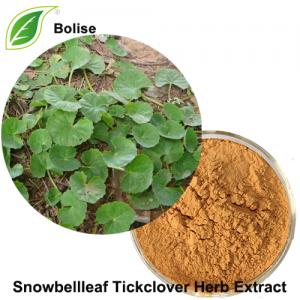 [ Botanical Name ] Desmodium styracifolium (Osbeck) Merr.
[ Specification ] 10:1 20:1
[ Active Ingredients ] alkaloid, flavonoid glycosides           
[ Detection method ] HPLC        
[ Used part ] Whole herb  
[ Appearance ] Brown yellow Powder
[ Solubility ] partly soluble in water
[ Function ]
1. Anti-inflammatory and remove toxins as well as eliminate bruises.
2. Relieve pains and improve immune system.
3. Could be an effective treatment for pediatric cough and fever.
4. Have the function of immune system and inhibition of cellular immunity.
5. Can loose vascular smooth muscle which is very beneficial to row stone and diuresis
[ Indications ]
Urination disturbance caused by damp-heat or urolithiasis accompanied by difficult painful urination; edema with oliguria; jaundice with dark urine.
COA of Desmodium Styracifolium Extract
Loss on drying: 3.14%
Ash: 2.95%
Mesh Size: 100% pass 80 mesh
Extract Ratio: 10:1
Heavy metal: ≤10ppm
As: ≤0.5ppm
Pb: ≤0.5ppm
Cd: ≤0.5ppm
Residual Pesticide: Negative
Total Plate Count:  ≤1000cfu/g
Yeast & Mold:  ≤100cfu/g
Salmonella:  Negative
E. Coli:  Negative
About Snowbellleaf Tickclover Herb Extract
Snowbellleaf Tickclover Herb is the dried aerial part of Desmodium styracifolium (Osb. ) Merr. (Fam. Leguminosae).
Desmodium Styracifolium Extract, a Chinese medicine name. It's whole dry herb for the leguminous plant Guangdong jin qian cao.  It 's mainly distributed in Fujian, Hunan, Guangxi and Guangdong provinces. It has the effects of clearing heat, diuresis and row of stones. It's used for the treatment of urinary tract infections, urinary calculi, cholelithiasis, and acute jaundice hepatitis. 
Functions: To remove damp-heat, induce diuresis and relieve dysuria.
For more information of product, please send the email to bkherb@globals-globals.com


After send online enquiry, we will reply you as soon as possible, if not get any response on time please contact us by Tel or Email.This form is unable to receive your inquiry from aol, hotmail, gmail or others but company email address.
E-MAIL:bkherb@globals-globals.com
TEL: +86 592 536 5868
WHATSAPP: +86 189 6516 2351