SeaBuckthorn Seed Oil
SeaBuckthorn Seed Oil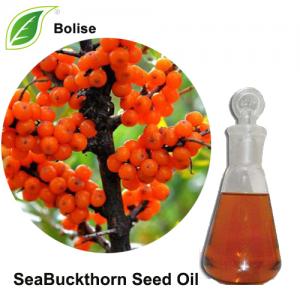 [ Botanical Name ]  Hippophae rhamnoides / Fructus Hippophae
[ Detection method ] HPLC
[ Function ]
1. Improve immunity
2. Anti-inflammation and muscle nourishment
3. Anticarcinogenic & anti-radiation
4. Protect liver
5. Anti-aging & nourish skin
[ Main Efficacy ]
anti-cancer, cure and relieve the bad symptom incurred by radiation or chemotherapy
COA of SeaBuckthorn Seed Oil
Character:  Red-Brown transparent   
volatile essential oil        
Seabuckthon Aroma
Density:  0.9165—0.9380
refraction:  1.4750—1.4965
Iodin Value: 146.0(g/100g)
saponification:  183.6(mgkOHg)
VE: 200.6(mg/100g)
Carotene:  6mg/80 mg carotenoid
Sitosterol: >500mg/800mg total sterol
Content:  > 95% Seabuckthon flavone
About SeaBuckthorn Seed Oil
Seabuckthorn seed oil is a kind of pure natural active components extracted from seabuckthorn seeds with high nutrition and economic value. 
The function of Seabuckthorm Seed Oil that include nursing and anti-aging effect. The function for liver is protection. The main anticancer element of Seabuckthorm seed oil has remarkale effect in controling tumorous and increase organism immunity.And to enhance immunity of cancerous person ect.Seabuckthorn seed oil can be used in cosmetics,beverage,health-care products and drugs.
For more information of product, please send the email to bkherb@globals-globals.com


After send online enquiry, we will reply you as soon as possible, if not get any response on time please contact us by Tel or Email.This form is unable to receive your inquiry from aol, hotmail, gmail or others but company email address.
E-MAIL:bkherb@globals-globals.com
TEL: +86 592 536 5868
WHATSAPP: +86 189 6516 2351