Salvia Miltiorrhiza Extract(Danshen Root extract)
Salvia Miltiorrhiza Extract(Danshen Root extract)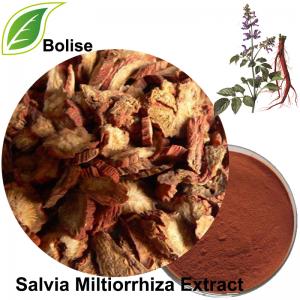 Specification: Salvianolic acid B 8% ,Tanshinone IIA 0.3%
Detection method:HPLC 
Botanical Name: Radix Salvia miltiorrhiza / Salvia miltiorrhiza Bge.
About Salvia miltiorrhiza extract:
In traditional Chinese medicine, danshen has been used to prevent and treat heart conditions and strokes. Results from animal and human studies support these uses of danshen to some extent because danshen is known to decrease the blood's ability to clot in at least two ways. First, it limits the stickiness of blood components known as platelets. It also decreases the production of fibrin--threads of protein that trap blood cells to form clots. Both these effects help to improve blood circulation. In addition, chemicals in danshen may relax and widen blood vessels, especially those around the heart. In animal studies, chemicals in danshen may also have protected the inner linings of arteries from damage. Some other research suggests that danshen potentially may increase the force of heartbeats and slow the heart rate slightly. All these effects potentially could improve heart function and help to restore functioning after a stroke, but they need more study before danshen can be recommended.
For more information of product, please send the email to bkherb@globals-globals.com


After send online enquiry, we will reply you as soon as possible, if not get any response on time please contact us by Tel or Email.This form is unable to receive your inquiry from aol, hotmail, gmail or others but company email address.
E-MAIL:bkherb@globals-globals.com
TEL: +86 592 536 5868
WHATSAPP: +86 189 6516 2351