Safflower Oil
Safflower Oil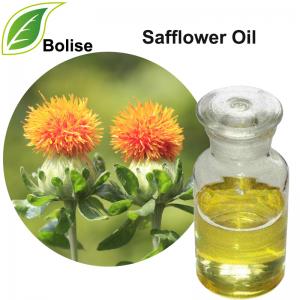 Specification:  75% linoleic acid
Detection method:HPLC
Botanical Name: Carthamus Tinctorius L.
About  Safflower Oil:
Safflower flower has been used in traditional Chinese medicine for thousands of years. It is used to treat menstrual disorders. Safflower flower is an emmenagogue, meaning that it is given to bring on menstruation. Safflower is also used to treat menstrual pain, to firm up the uterus after childbirth, to ease stiffness and pain in the joints, and sometimes also to treat trauma to the abdomen. According to traditional Chinese usage, safflower flower is a blood regulator; that is, it invigorates and harmonizes the blood and dissolves blood clots. Safflower is said to have a warm nature and a pungent taste. Chinese practitioners use safflower oil in tui na massage. 
 The oil in linoleic safflower contains nearly 75% linoleic acid, which is considerably higher than corn, soybean, cottonseed, peanut or olive oils. This type of safflower is used primarily for edible oil products such as salad oils and soft margarines. Researchers disagree on whether oils high in polyunsaturated acids, like linoleic acid, help decrease blood cholesterol and the related heart and circulatory problems. Nonetheless, it is considered a "high quality" edible oil and public concern about this topic made safflower an important crop for vegetable oil.
For more information of product, please send the email to bkherb@globals-globals.com


After send online enquiry, we will reply you as soon as possible, if not get any response on time please contact us by Tel or Email.This form is unable to receive your inquiry from aol, hotmail, gmail or others but company email address.
E-MAIL:bkherb@globals-globals.com
TEL: +86 592 536 5868
WHATSAPP: +86 189 6516 2351