Roughhaired Holly Root Extract
Roughhaired Holly Root Extract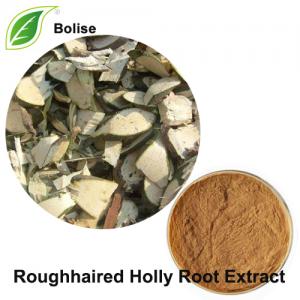 [ Botanical Name ]  Ilex asprella (Hook. Et Arn.)Champ.
[ Specification ] 10:1
[ Detection method ] HPLC
[ Source ] The root of hex. arprella (Hook. et Am.) Champ. ex Benth., family Aquifoliaceae.
[ Appearance ] brown powder
[ Indications ]
Cold fever, headache and dizziness, dry, hot gas thirst, measles, lung, hemoptysis, sore throat, hemorrhoids, gonorrhea, blood or poison, kid crazes.  
[ Characteristics ]
Crude drugs woody root, axial and lateral roots obviously branching, up to 30 cm in length; root cortex yellow-white to light brown, even and smooth. Prepared as irregular masses, cross section showing slender and dense radial bundles. Bitter and sweet in taste, cool in nature.
[ Pharmacological Action ]
Increasing coronary flow and myocardial contractility in guinea-pigs in vitro.
About Roughhaired Holly Root Extract
Roughhaired Holly Root Extract not only could inhibit the exudation of preliminary inflammatory,but also markedly abate the later proliferation of connective tissue.The extract from Roughhaired Holly Root has significant anti-inflammatory activity.
For more information of product, please send the email to bkherb@globals-globals.com


After send online enquiry, we will reply you as soon as possible, if not get any response on time please contact us by Tel or Email.This form is unable to receive your inquiry from aol, hotmail, gmail or others but company email address.
E-MAIL:bkherb@globals-globals.com
TEL: +86 592 536 5868
WHATSAPP: +86 189 6516 2351