Red Yeast Rice Extract
Red Yeast Rice Extract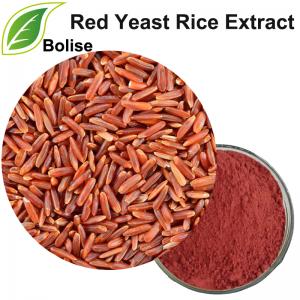 Specification:  Lovastatin1%
Detection method: HPLC
Botanical Name:  Monascus purpureus
About Red Yeast rice extract:
Red Yeast  Rice powder is obtained through fermentation of permium grains with Monascus purpureus strains.
Red Yeast  Rice  was a great invention in ancient China and was used as a Chinese medicine to strengthen spleen, promote digestion, eliminate dampness and phlegm, promote blood circulation and remove blood stasis. Modern clinical research shows that red kojic contains several physiological active matters, such as Lovastatin, which can adjust abnormal blood lipid levels, lower serum total cholesterol(TC),serum triglyceride,low-density lipoprotein cholesterol(LDL -C),and increase high-density lipoprotein cholesterol(HDL-C). As a kind of natural food additives, red kojic is widely used in food, pastry, wine, drink, cosmetic, and so on. A kind of medicine which contains red kojic is used in hospitals now.
For more information of product, please send the email to bkherb@globals-globals.com


After send online enquiry, we will reply you as soon as possible, if not get any response on time please contact us by Tel or Email.This form is unable to receive your inquiry from aol, hotmail, gmail or others but company email address.
E-MAIL:bkherb@globals-globals.com
TEL: +86 592 536 5868
WHATSAPP: +86 189 6516 2351