Pterostilbene
Pterostilbene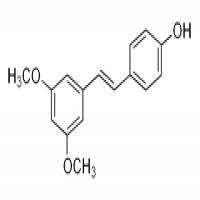 [Specification]  99%Pterostilbene
[Detection methods]  HPLC
[Botanical Name]   Vaccinium myrtillus 
[About Pterostilbene] 
Pterostilbene is isolated and identified in blueberries, cranberries, grapes and Dracaena species, it is similar in chemical structure to resveratrol. White crystal; soluble in ethanol, methanol, acetone, ethyl acetate and chloroform, insoluble in water.It's melting point is 87-88,and Molecular formula is C40H56O2 .Recent studies show that pterostilbene has extensive activities such as antifungal(5-fold than that of resveratrol), cancer chempreventive, cancer cell cytotoxic, antioxident, and the most important, cholesterol-lowering(better than ciprofibrate) and anti-diabetic(comparable to metformin) activities. It is now considered to be an agonist of peroxisome proliferator-activated receptor alpha(PPARa). Our group has accomplished the chemical synthesis of pterostilbene and is seeking partners for co-development.
For more information of product, please send the email to bkherb@globals-globals.com


After send online enquiry, we will reply you as soon as possible, if not get any response on time please contact us by Tel or Email.This form is unable to receive your inquiry from aol, hotmail, gmail or others but company email address.
E-MAIL:bkherb@globals-globals.com
TEL: +86 592 536 5868
WHATSAPP: +86 189 6516 2351