Prepared Common Monkshood Daughter Root Extract
Prepared Common Monkshood Daughter Root Extract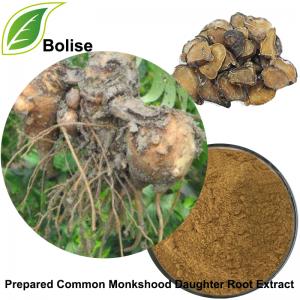 Specification:  Aconitine
Detection method: HPLC
Botanical Name:Radix Aconiti Lateralis Preparata /Aconitum carmichaeli Dabx. 
About Prepared Common Monkshood Daughter Root Extract:
 Prepared Common Monkshood Daughter Root is the processed daughter root of Aconitum carmichaeli Dabx. (Fam. Ranunculaceae). The drug "Yan Fuzi", "Hei Shunpian", "Bai Fupian".
Functions: To cause restoration from collapse, to supplement body fire and reinforce yang, and to dispel wind, cold and damp.
Indications: Collapse with cold limbs and faint pulse; impotence, frigidity; precordial and abdominal pain with cold sensation; vomiting and diarrhea or edema accompanied by aversion to cold and cold extremities; colds in patients with yang deficiency; chronic arthritis due to attack of cold and damp (marked by persistent severe joint pain, fixed in place and accompanied by heaviness sensation and numbness).
Precaution: Contraindicated in pregnancy. Incompatible with Rhizoma pinelliae, Fructus Trichosanthis, Bulbus Fritillariae and Rhizoma Bletillae.
For more information of product, please send the email to bkherb@globals-globals.com


After send online enquiry, we will reply you as soon as possible, if not get any response on time please contact us by Tel or Email.This form is unable to receive your inquiry from aol, hotmail, gmail or others but company email address.
E-MAIL:bkherb@globals-globals.com
TEL: +86 592 536 5868
WHATSAPP: +86 189 6516 2351