Peach Kernel Extract
Peach Kernel Extract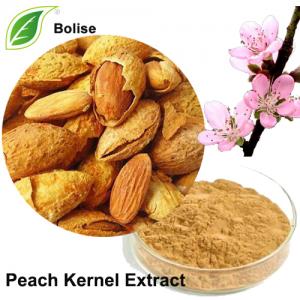 [ Specification ]             Amygdalin 80~90%
[ Detection method ]        HPLC       
[ Botanical Name ]          Prunus persica.
[ Origin ]  
 Peach kernel extract, as its name implies, is obtained from the kernel, or nut, of the peach fruit. It can be used instead of Apricot kernel oil, being similar in properties, consistency, appearance and weight.
[ About peach kernel ]
 The highest quality is cold-pressed from the kernels of the fruit. It can be used 100% but may be a bit expensive for this luxury. Fortunately it is equally effective in dilutions of 10 - 50% in carrier oils such as grapeseed, sweet almond and jojoba. Description of aroma: Very faint, barely perceptible aroma - almost odourless. Colour: Very pale clear yellow Texture: A light yet rich, fine-textured oil, similar to sweet almond. Pleasant to use, it is quite easily absorbed, has good penetration and leaves little oily residue or greasy feeling on the skin.
[ Use ]
   Possessing wonderful revitalizing, nourishing, regenerative and moisturizing properties, peach kernel oil helps prevent dehydration, smoothes wrinkles and encourages elasticity and suppleness in all skin types.
   It is especially beneficial for sensitive or inflamed skin, such as with eczema or psoriasis conditions and exposure to sun or wind, and also delicate or mature complexions.
   Its regenerative and tonic effects help to cleanse and tighten the pores of the skin. It is particularly useful for facial massage blends. Peach kernel oil is used in the soap industry and is a popular ingredient in cosmetics, such as creams, lotions and lip balms. Try it as an effective make-up remover.
For more information of product, please send the email to bkherb@globals-globals.com


After send online enquiry, we will reply you as soon as possible, if not get any response on time please contact us by Tel or Email.This form is unable to receive your inquiry from aol, hotmail, gmail or others but company email address.
E-MAIL:bkherb@globals-globals.com
TEL: +86 592 536 5868
WHATSAPP: +86 189 6516 2351