Passion Flower Extract(Maypop Extract)
Passion Flower Extract(Maypop Extract)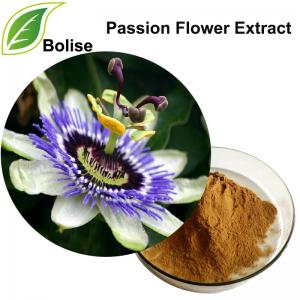 [ Botanical Name ]  Passiflora L.
[ Specification ] Flavonoids4%,beta-carboline,coumarins
[ Detection method ]  HPLC
[ Appearance ]  Light-brown fine power
[ Active ingredient ] Flavones
Main Function of Passion Flower Extract
1. Regulating neural stability, which included mild sedative and antianxiety effects;
2. Inhibiting the spasticity of the smooth muscle, which included the digestive system;
3. Slowing down the rate of food through the digestive tract, thereby promoting digestion.
COA of Passion Flower Extract
Mesh analysis: 100% Pass 80 mesh
Extract ratio:    1:1
Moisture:  2.15%
Extract Solvents: Water
Carriers Used: None
Ash: 3.74%
Heavy Metals: <10ppm
Lead(Pb): <5ppm
Arsenic(as As2O3): <2ppm
Mercury(Hg): <0.5ppm
Solvents Residue: 0.01%
Total Bacteria: <1000cfu/g
Yeast & Mold: <100cfu/g
E.Coli: Absent
Salmonella: Absent
Aflaioxims: <0.2ppb
About Passion Flower Extract(Maypop Extract)
Maypop (P. incarnata) leaves and roots have a long history of use among Native Americans in North America and were adapted by the colonists. The fresh or dried leaves of Maypop are used to make an infusion, a tea that is used to treat insomnia, hysteria, and epilepsy, and is also valued for its painkilling properties. Maracujá (P. edulis) and a few other species are used in Central and South America for similar purposes. P. Incarnata has aromatase properties due to the presence of two flavonoid compounds: chrysin and benzoflavone moiety, the latter being more potent
Passion Flower Extract has neuroleptic effects, including mild sedation and anti-anxiety effects.
Passion Flower Extract also has antispasmodic effect on the body's smooth muscle to promote digestion.
[ Storage ]
Store in sealed containers at cool & dry place.
Protect from light, moisture and pest infestation.
[ Shelf life ]
24 months when properly stored
[ Package ]
Enterprise standard. Drums or cartons, 25kgs/drum(carton),2.5kg/bag, double vacuum plastic packing (vacuum sealed foil bags) inside.
For more information of product, please send the email to bkherb@globals-globals.com


After send online enquiry, we will reply you as soon as possible, if not get any response on time please contact us by Tel or Email.This form is unable to receive your inquiry from aol, hotmail, gmail or others but company email address.
E-MAIL:bkherb@globals-globals.com
TEL: +86 592 536 5868
WHATSAPP: +86 189 6516 2351