Palmatine
Palmatine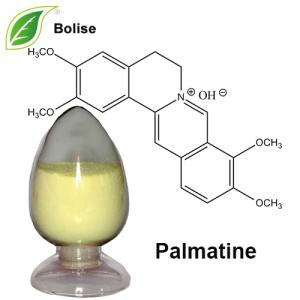 [ Botanical source ] Common Fibraurea Stem Root P.E.
[ Chemical name ] 2,3,9,10-Tetramethoxy-5,6-dihydro-isoquino[3,2-a]isoquinolinylium
[ CAS No. ]  3486-67-7
[ Molecular Formula ] C21H22NO4
[ Molecular Weight ] 352.40
[ Density ]  1.23 g/cm3
[ Boiling point ]  482.9 °C (901.2 °F; 756.0 K) at 760 mmHg
[ Used Part ]  Bark and steam
[ Test Method ]  HPLC
[ Extract Solvent ]  Ethanol & Water
[ Appearance ]  Yellow crystalline powder.
[ Pharmacological effects ]
Anti- myocardial infarction, antiarrhythmic, 
antibiosis(StaPhylococcus aureus, Microsporum canis, Candida albicans, mycobacteria, E.coli,dysentery bacillus, Group B Streptococcus, asia influenza A virus, twelve mould).
About Palmatine
Palmatine has been used in the treatment of jaundice, dysentery, hypertension, inflammation, and liver-related diseases.
For more information of product, please send the email to bkherb@globals-globals.com


After send online enquiry, we will reply you as soon as possible, if not get any response on time please contact us by Tel or Email.This form is unable to receive your inquiry from aol, hotmail, gmail or others but company email address.
E-MAIL:bkherb@globals-globals.com
TEL: +86 592 536 5868
WHATSAPP: +86 189 6516 2351