Onion Extract
Onion Extract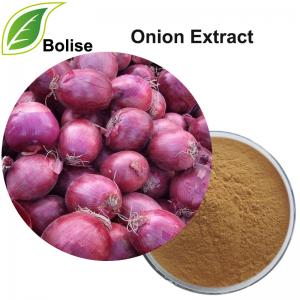 Specification:  alkylated alliins
Detection method: HPLC
Botanical Name:  Allium cepa L.
About Onion Extract:
In ancient Greece, athletes ate large quantities of onion because it was believed that it would lighten the balance of blood. Roman gladiators were rubbed down with onion to firm up their muscles. In the Middle Ages onions were such an important food that people would pay their rent with onions and even give them as gifts. Doctors were known to prescribe onions to facilitate bowel movements and erection, and also to relieve headaches, coughs, snakebite and hair loss. The onion was introduced to North America by Christopher Columbus on his 1492 expedition to Hispaniola. Onions were also prescribed by doctors in the early 1500s to help with infertility in women, and even dogs and cattle and many other household pets. However, recent evidence has shown that dogs, cats, and other animals should not be given onions in any form, due to toxicity during digestion.
The main components of the onion extract are alkylated alliins, the most important of which is 1-propenyl-alliin. Propenyl-alliin is cleaved enzymatically to produce propenyl sulfenic acid. Onion oils contain alkylated disulfides,while quercetin is the most important flavonoid.In addition,the extract contains biocatalysts,in particular enzymes, as well as glucokinins and minerals (Ca, Na, K, Fe).
For more information of product, please send the email to bkherb@globals-globals.com


After send online enquiry, we will reply you as soon as possible, if not get any response on time please contact us by Tel or Email.This form is unable to receive your inquiry from aol, hotmail, gmail or others but company email address.
E-MAIL:bkherb@globals-globals.com
TEL: +86 592 536 5868
WHATSAPP: +86 189 6516 2351