Norbixin
Norbixin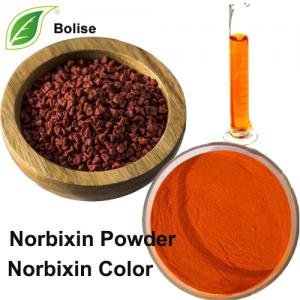 [ Botanical Name ]  Bixa orellana L.
[ CAS No. ] 8015-67-6
[ Specification ]  99%Norbixin
[ Detection methods ] HPLC
[ The dosage reference ]
This reference dosage is in consideration of the dispensation of the color and luster reference GB2760.
[ Using method ]
Add desired pigment to some water or ethanol solution and stir to get an equal Solution, put this solution into your product for pigmentation.
COA of Norbixin Powder
Appearance:  Orange free flowing powder
Bixin: 40.12%
Particle size: 100% pass 80 mesh
Bulk density:  0.68 g/ml
Moisture:  4.30%
Colour Strength O.D:  0.28 ~ 0.35 at 453 nm (Di.1:10000) in 0.06 M Amm. sol.
Mercury:  Nil
Copper: 2.2mg/kg
Arsenic: Nil 
Lead: Nil
Heavy metals: 30 mg/kg
Total plate count: 7300 per gm
Solubility: Completely soluble in water.
About Norbixin and Norbixin Color
It's appearance is Red to red-brown liquid, agglomeration, powder or paste. Hue-range is from saffron yellow to yellow in diluted aqueous solution.This water-solubility norbixin is extracted by using the epidermis of annatto's seed as medium, through dissolved by NaOH solution or potash solution, which is then refined to get the product.
[ Function ] 
1. Be compatible with milk protein well, so it can be used in making cheese and the series Produces of cheese.
2. Used in the products such as cheese, margarine, cooking oils, noodles, ice-cream, bake products, beverage, cake and so on, especially for dried meat floss.
[ Describe ] 
1. Easily dissolved in water, and its alkaline solution slightly dissolved in alcohol liquid
2. With strong heat resistance fastness its color does not fade at 180 temperatures
3. It is optimum condition when PH is about 8.
[ Shelf life ] Twelve months (original package)
[ Pack and storage ]
1Kg/bag, aluminum foil bag in carton barrel, and total 15kg (net weight) or package according to customer's need. Store in cool and dry place. Keep from sunlight. Preserve it by sealing it airtight.
For more information of product, please send the email to bkherb@globals-globals.com


After send online enquiry, we will reply you as soon as possible, if not get any response on time please contact us by Tel or Email.This form is unable to receive your inquiry from aol, hotmail, gmail or others but company email address.
E-MAIL:bkherb@globals-globals.com
TEL: +86 592 536 5868
WHATSAPP: +86 189 6516 2351