Nattokinase(Natto Extract)
Nattokinase(Natto Extract)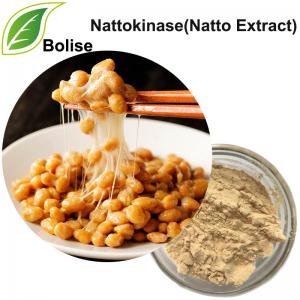 [ Specification ] Nattokinase 5000FU/G、12000FU/G、20000FU/G
[ Detection method ] HPLC  
[ Botanical Name ]  Glycine max(L.)Merr
[ Nattokinase ] ≧5000FU/g
[ Appearance ]  Brown Fine Powder
The main functions of natto powder
1. Dissolve thrombus:
It can directly dissolve thrombus, the effect on every 1g wet nattokinase equals to effect of 1600IU urokinase. The acting time on nattokinase to thrombus can be 8-12 hours, while which of urokinase is only 30 minutes. Urokinase can be used by injection only, while nattokinase can be used both by injection and oral absorption, it can also effect in capillary. 
2.Lower the cholesterol
In the natto lipid, linoleic acid occupy 50% percent, there are reports that saying linoleic acid can lower the cholesterol content in blood plasma, so it has the function of preventing Arteriosclerosis﹑heart disease and hypertension. Therefore we say nattokinase has the function of lower the cholesterol.
3. Prevent hypertension
4. Lose weight slowly and intuitively reduce the blood sugar after meal
Natto Extract has the following advantages
(1)It is one kind of food source kinase, so doesn't have antigenicity, nor toxicity, so it is very safe in long run;
(2) It is easily to be absorbed by human as it has low molecular weight;
(3) It can be absorbed by Intestinal mucosa after oral intake, so is oral intake medicine to dissolving thrombus;
(4) It can effect on fibrin directly, it is startup of plasminogen and can effect promptly;
(5) It can be produced by bacterial fermentation technology, the cost is low;
COA of Nattokinase
E.Coli:  <10 CFU/g
Total Yeast & Mold:  <100 CFU/g
Total Heavy Metals: <10ppm
Arsenic:  <2ppm
Lead:  <2ppm
Loss on Drying:  <8%
About Nattokinase(Natto Extract)
The most cynosural ingredient in natto powder is nattokinase. It is one kind of protein which is made from soybeans fermented by natto bacillus, Natto bacillus food contains high concentration ingredient to dissolve blood clot.
Nattokinase is an enzyme extracted and purified from a Japanese food called Natto. Natto is a cheese-like food made from fermented soybeans that has been eaten in Japan for many years. It's Yellow-white fine powder,Nattokinase is used for conditions related to the heart and blood vessels, such as atherosclerosis (hardening of the arteries), high blood pressure, high cholesterol, and poor circulation.
Natto Extract contains abundant linoleic acid,Linolenic acid,phytoestrogen、isoflavone,lecithin etc,they have cosmetics/ brain-strengthening/ improving man's memory/ loosing weight functions. The ability of pyridine dihydroxy acid to combine metal is very strong, it can clean the radioactive element in body, so often eating natto can decrease the rate of having leukemia.
[ Storage ]
Store in sealed containers at cool & dry place.
Protect from light, moisture and pest infestation.
[ Shelf life ]
24 months when properly stored
[ Package ]
Enterprise standard. Drums or cartons, 25kgs/drum(carton),2.5kg/bag, double vacuum plastic packing (vacuum sealed foil bags) inside.
For more information of product, please send the email to bkherb@globals-globals.com


After send online enquiry, we will reply you as soon as possible, if not get any response on time please contact us by Tel or Email.This form is unable to receive your inquiry from aol, hotmail, gmail or others but company email address.
E-MAIL:bkherb@globals-globals.com
TEL: +86 592 536 5868
WHATSAPP: +86 189 6516 2351