Myricitrin
Myricitrin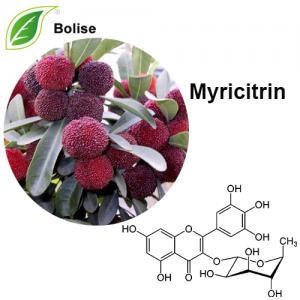 [ Botanical source ] Myrica rubra Bieb.et Zucc
[ Chemical name ] Myricetin-3-rhamnoside; 5,7-Dihydroxy-3-((2S,3R,4R,5R,6S)-3,4,5-trihydroxy-6-methyl-tetrahydro-pyran-2-yloxy)-2-(3,4,5-trihydroxy-phenyl)-1-benzopyran-4-one.
[ CAS No. ] 17912-87-7
[ Molecular Formula ] C21H20O12
[ Molecular Weight ] 464.38
[ Appearance ] Light yellow to off-white crystalline powder.
[ Density ] 1.882 g/mL
[ Melting point ] 197°C(lit.)
[ Pharmacological effects ]
Eliminate free radical, Antioxidation.
It has pharmacological action of anti-thrombus、anti-tumor、cardiac-cerebral vessels protection, dephlogisticate and antibiosis, relief alcoholic poisoning, liver protection etc.
About Myricitrin
The metabolite myricitrin, 3-O-rhamnoside of myricetin, is found in plants, e.g. in the bark of Myrica esculenta (Myricaceae) and in the leaves of Myrica gale and in Chrysobalanus icaco. It is a feeding stimulant for some leaf beetles; and shown to have strong antioxidant activity against DPPH.Myricitrin may be of potential interest in the management of inflammatory conditions, and could constitute an attractive molecule of interest for the development of new analgesic drugs. Myricitrin is a nitric oxide (NO) and protein kinase C (PKC) inhibitor that has central nervous system activity, including anxiolytic-like action.
For more information of product, please send the email to bkherb@globals-globals.com


After send online enquiry, we will reply you as soon as possible, if not get any response on time please contact us by Tel or Email.This form is unable to receive your inquiry from aol, hotmail, gmail or others but company email address.
E-MAIL:bkherb@globals-globals.com
TEL: +86 592 536 5868
WHATSAPP: +86 189 6516 2351