Mulberry Leaf Extract
Mulberry Leaf Extract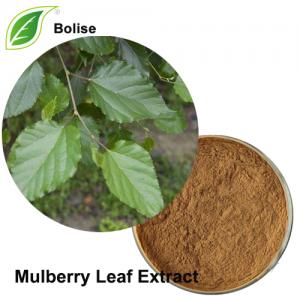 [ Specification ]  DHJ (1-Deoxynojirimycin hydrochloride)         
[ Detection method ] HPLC          
[ Botanical Name ]  Folium Mori, Morus alba L.
[ Used Part] Leaf
[ Appearance ]  Brown-Yellow Fine powder
[ Fuction ] 
Mulberry Leaf Extract is considered as a nice herb in the ancient China for anti-inflammation, anti-aging and maintaining health.Mulberry leaf is rich in amino acids,vitamin C and antioxidants. Among this components, the most valuable are Rutoside and DNJ(1-Deoxynojimycin),The latest Chinese research has shown Rutoside and DNJ are effective in regulating blood fat, balancing blood pressure, reducing blood glucose, and boosting metabolism. SO they are widely used as raw materials for curing diabetes 
Mulberry Leaf Extract is proved to: 
1) Inhibiting activities against a-glycosidase 
2) Inhibiting activities against viruses 
3) Inhibiting activities against tumor metastasis 
4) Inhibiting activities against a-amylase 
5) Blood sugar lowering activities 
6) Free radical scavenging activities 
7) Immune adjustment activities 
8) Weight loss activities by preventing absorption
COA of Mulberry Leaf Extract
Loss on drying: 3.19%
Ash: 3.12%
Mesh Side: 100% pass 80 mesh
Total Flavones: ≥30.0%
Heavy metal: ≤10ppm
As: ≤2.0ppm
Residual Pesticide: Negative
Total Plate Count: ≤1000 cfu / g
Yeast & Mold: ≤100 cfu/ g
Salmonella: Negative
E. Coli:  Negative
About Mulberry Leaf Extract
Mulberry is a fast growing deciduous woody perennial plant. It has a deep root system. The leaves are simple, alternate, stipulate, petiolate, entire or lobed. The number of lobes varies from one to five. Plants are generally dioecious. Inflorescence is catkin with pendent or drooping peduncle bearing unisexual flowers. Inflorescence is always auxiliary. Male catkins are usually longer than the female catkins. Male flowers are loosely arranged and after shedding the pollen, the inflorescence dries and falls off. These are four persistent parianth lobes and four stamens implexed in bud. Female inflorescence is usually short and the flowers are very compactly arranged. There are four persistent parianth lobes. The ovary is one-celled and the stigma is bifid. The chief pollinating agent in mulberry is wind. Mulberry fruit is a sorosis, mainly violet black in colour.
[ Storage ] Store in cool and dry place.keep away from strong light and heat.
[ Shelf life ] 24 months.
For more information of product, please send the email to bkherb@globals-globals.com


After send online enquiry, we will reply you as soon as possible, if not get any response on time please contact us by Tel or Email.This form is unable to receive your inquiry from aol, hotmail, gmail or others but company email address.
E-MAIL:bkherb@globals-globals.com
TEL: +86 592 536 5868
WHATSAPP: +86 189 6516 2351