Marjoram Extract(Origanum Extract)
Marjoram Extract(Origanum Extract)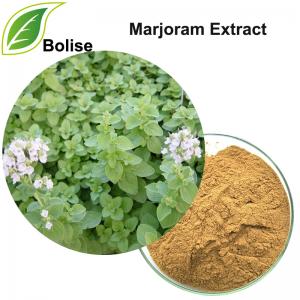 Specification: sabinene
Detection method: HPLC
Botanical Name:  Origanum majorana L.
About Marjoram Extract:
   Marjoram oil's main chemical constituents are sabinene, a-terpinene, y-terpinene, p-cymene, terpinolene, linalool, cis-sabinene hydrate, linalyl acetate, terpinen-4-ol and y-terpineol.
   Marjoram oil is extracted from the fresh and dried leaves and flowering tops of the plant by steam distillation and yields 0.5 - 3 %.
   Marjoram oil has a warm, slightly spicy smell and is colorless to pale yellow/amber in color.
Actions:
   1)Marjoram oil has a warming action and calms emotions, relieves anxiety as well as stress and helps to calms hyperactive people. It has good muscle relaxant properties and the pain killing properties are useful for rheumatic pains as well as sprains, strains and spasms, as well as swollen joints and painful muscles.
   2)It soothes the digestive system and helps with cramps, indigestion, constipation and flatulence and has a beneficial action on colds, sinusitis, bronchitis and asthma.
   3)As a general relaxant, marjoram oil is used for headaches, migraines and insomnia and although it can diminish sexual desire, it is great for treating delayed, painful or scanty monthly periods as well as menstrual cramps.
For more information of product, please send the email to bkherb@globals-globals.com


After send online enquiry, we will reply you as soon as possible, if not get any response on time please contact us by Tel or Email.This form is unable to receive your inquiry from aol, hotmail, gmail or others but company email address.
E-MAIL:bkherb@globals-globals.com
TEL: +86 592 536 5868
WHATSAPP: +86 189 6516 2351