Macadamia Nut Oil (Macadamia oil )
Macadamia Nut Oil (Macadamia oil )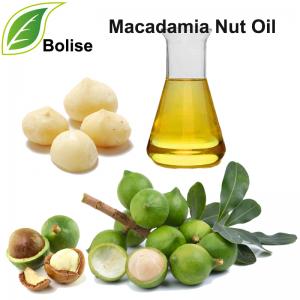 Specification:  60% oleic acid, 19% palmitoleic acid, 3% Linoleic acid
Detection method:  HPLC
Botanical Name: Macadamia integrifolia
About Macadamia Nut Oil:
The Macadamia Nut Oil is nutritious ? a great source of calcium, B complex, phosphorus and iron. It has a shelf life of almost a year and contains 73-80% mono-saturated fat. Macadamia nut oil contains the highest amount of palmitoleic acid (an Omega 7 fatty acid) of any plant. Palmitoleic acid is plentiful in our skin when we are young, but decreases with aging. This acid is believed to help mature skin retain suppleness. Palmitoleic acid also replaces naturally occurring skin on the lips, allowing the skin to remain younger looking.
Macadamia oil reduces wrinkles and dryness. It is a natural moisturizer and emollient (emollients attract and trap moisture from the air). Macadamia oil is light and non-greasy so it is easily absorbed into the hair shaft and skin. Another gift of macadamia nut oil is that it contains proteins, and its vitamin E contributes skin-care benefits and long shelf life. The high count of mono-unsaturated fatty acids makes the oil mimic the sebum (naturally produced oil on scalp and skin which protects it from damage). All of these qualities contribute to its reputation as a superb hair and skin treat, as well as an elixir for healing scars, sunburn, wounds and irritations.
For more information of product, please send the email to bkherb@globals-globals.com


After send online enquiry, we will reply you as soon as possible, if not get any response on time please contact us by Tel or Email.This form is unable to receive your inquiry from aol, hotmail, gmail or others but company email address.
E-MAIL:bkherb@globals-globals.com
TEL: +86 592 536 5868
WHATSAPP: +86 189 6516 2351