Lycopene
Lycopene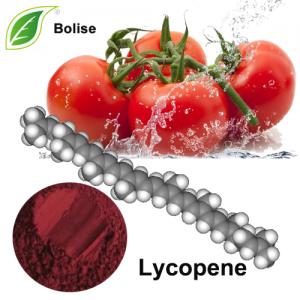 [ Specification ]          1) lycopene (powder)  3%--90%  
                                   2) lycopene (oil)  1%--15% 
[ Detection method ] HPLC
[ Botanical Name ]  Lycopersicum esculentum Mill
[ Used Part ] Fruit
[ Appearance ]  Red ,free-flowing powder
[ Function ] 
1. Keeping skin healthy - Lycopene may help reduce the damage to the skin caused by ultraviolet light during and after sun exposure. 
2. Preventing heart diseases - Lycopene is found to prevent oxidation of lipids and low density lipoprotein cholesterol (LDL), and reduced the risk of a person developing atherosclerosis and coronary heart disease. 
3. Fighting cancer - Because lycopene is a potent antioxidant and seems to inhibit growth of cancer cells, it is logical that a higher intake of this carotenoid may indeed be associated with reduced incidence of cancer. 
4. Could reduce the risk of prostate cancer
COA of Lycopene
Lose on drying: 4.10%
Ash: 3.98%
Heavy metals: ≤3ppm
Arsenic: ≤1ppm
Assay: 5.70%
Total Plate Count: ≤1000cfu/g
Fungi and yeast: ≤100cfu/g
E.Coli: ≤30cfu/g
Salmonella: Negative
Staphylococcus aureus: Negative
About Lycopene
Lycopene is a carotenoid responsible for the red color of the tomato, watermelon and pink grapefruit. In plants, lycopene is similar to other carotenoids, serving as a light-absorbing pigment during photosynthesis and protecting cells against photosensitization. It has a unique long chain molecular structure containing 13 double bonds, more than any other carotenoid. This configuration is responsible for lycopene''s special ability to neutralize free radicals. Among the carotenoids, it is the most efficient quencher of singlet oxygen free radicals. Lycopene has been linked with reduced risk of prostate and cervical cancers, as well as supporting cardiovascular health. 
[ Storage ] in cool and dry place
[ Shelf life ] two years when properly stored.
For more information of product, please send the email to bkherb@globals-globals.com


After send online enquiry, we will reply you as soon as possible, if not get any response on time please contact us by Tel or Email.This form is unable to receive your inquiry from aol, hotmail, gmail or others but company email address.
E-MAIL:bkherb@globals-globals.com
TEL: +86 592 536 5868
WHATSAPP: +86 189 6516 2351