Loquat leaf extract
Loquat leaf extract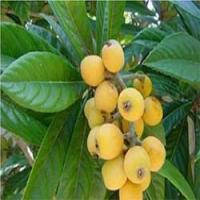 Specification:  50%Ursolic acid,corosolic acid
Detection method: HPLC
Botanical Name: Eriobotrya japonica ( Thunb.) Lindl
About Loquat leaf extract:
Loquat leaf extract contains amygdalin, ursolic acid, Oleanolic acid, Vitamin B1, and C, tannin, organic acid, carbohydrate and so on. 
Main function: removing heat from the lung to relieve cough, lowering the adverse flow of qi, preventing vomiting. It can be used for cough due to the lung-heat, abnormal rising of the qi, rapid respiration, stomach heat, dysphoria with thirst.
The corosolic acid extracted from loquat leaves potentiates glucose transport and uptake, which lowers blood glucose and decreases the need for insulin secretion. Insulin resistance affects millions of adult Americans. Long-term elevation of blood sugar creates a high risk for developing diabetes, and is an independent risk factor for cardiovascular disease. This plant material provides product developers with an excellent opportunity to incorporate it into an effective blood glucose metabolism formula. Corosolic acid is a natural medicine that plays a favorable role in maintaining healthy blood glucose levels, thereby decreasing the risk of long-term complications associated with insulin resistance.
For more information of product, please send the email to bkherb@globals-globals.com


After send online enquiry, we will reply you as soon as possible, if not get any response on time please contact us by Tel or Email.This form is unable to receive your inquiry from aol, hotmail, gmail or others but company email address.
E-MAIL:bkherb@globals-globals.com
TEL: +86 592 536 5868
WHATSAPP: +86 189 6516 2351