Lesser Celandine Extract(Pilewort Extract)
Lesser Celandine Extract(Pilewort Extract)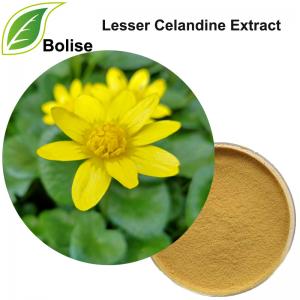 Specification:25% alcohol  2% Chelidonin
Detection method: HPLC
Botanical Name:  Ranunculus ficaria
About Lesser Celandine Extract:
Lesser Celandine Extract has a traditional use in the treatment of piles, both as an internal remedy and in the form of an ointment or suppository. Nowadays, it is used only externally because of its acrid nature. The saponins are locally anti-haemorrhoidal, an action enhanced by the astringent tannins. The saponins have a fungicidal action. Protoanemonin in the fresh plant is antibacterial and a strong local irritant but it is not found in the dried material where its dimer anemonin is inactive.
For more information of product, please send the email to bkherb@globals-globals.com


After send online enquiry, we will reply you as soon as possible, if not get any response on time please contact us by Tel or Email.This form is unable to receive your inquiry from aol, hotmail, gmail or others but company email address.
E-MAIL:bkherb@globals-globals.com
TEL: +86 592 536 5868
WHATSAPP: +86 189 6516 2351