Konjac Glucomannan (Konjac Root Extract)
Konjac Glucomannan (Konjac Root Extract)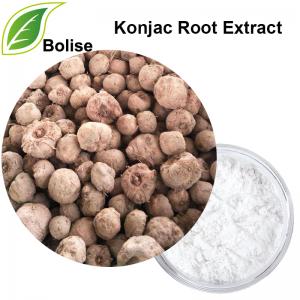 [ Botanical Name ] Anorphophallus konjac K. Koch
[ Other common names ] Konjac, Konjac Root, Snake Plant, Devil's Tongue, Doo Bulbs, Konjac Mannan, Corpse Flowers, Voodoo Lily, Snake Palm
[ Specification ] 70%Glucomannan
[ Detection method ] HPLC
[ Used Part ] Root
[ Appearance ]  White Powder
COA of Konjac Root Extract
Loss on drying: 9.21%
Ash: 2.39%
Mesh Size: 100% pass 100 mesh
Glucomannan: 81%
Viscosity: 26000cst
PH: 7.0
Sulphur Dioxide: 436
Lead: ≤1ppm
Arsenic: ≤2ppm
Total Plate Count: ≤3000cfu/g
Yeast & Mold: ≤100cfu/g
Salmonella: Negative
E. Coli: Negative
About Konjac Glucomannan (Konjac Root Extract)
Konjac root extract is useful for lowering all cholesterol in the body, in addition to triglycerides and low-density lipoproteins. Glucomannan not only can reduce cholesterol, but it can eliminate cholesterol components from the body.
Konjac extract is also a good treatment for constipation. The body does not digest konjac extract. When it is digested and formed into a mass through liquid absorption, it can start contractions in the intestines. This creates stool that is more easily passed through the colon.
The extract of the Konjac root is referred to as Glucomannan. Glucomannan is a fiber-like substance traditionally used in food recipes, but now it is utilized as an alternative means of weight loss. Along with this benefit, konjac extract contains other benefits for the rest of the body as well.
Glucomannan is an all-natural, dietary source of 100% fiber obtained from the root of the Konjac plant in Asia.  And Glucomannan contains zero calories, so it's an excellent addition to a sensible weight loss program.  Additionally, this herb has been shown to help reduce cholesterol, relieve constipation and regulate blood sugar in several clinical studies.
[ Storage ]
Store in cool & dry place; Keep away from strong light and high heat.
[ Shelf life ]
24 months when properly stored
[ Package ]
Enterprise standard. Drums or cartons, 25kgs/drum(carton),2.5kg/bag, double vacuum plastic packing (vacuum sealed foil bags) inside.
For more information of product, please send the email to bkherb@globals-globals.com


After send online enquiry, we will reply you as soon as possible, if not get any response on time please contact us by Tel or Email.This form is unable to receive your inquiry from aol, hotmail, gmail or others but company email address.
E-MAIL:bkherb@globals-globals.com
TEL: +86 592 536 5868
WHATSAPP: +86 189 6516 2351