Kola Nut Extract(Cola nut extract)
Kola Nut Extract(Cola nut extract)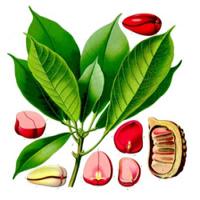 Specification: 3.5%Caffeine,2.5%Theobromine 
Detection method: HPLC
Botanical Name:  Cola acuminata Schott et Endl
About Kola Nut Extract: 
The kola nut has a bitter flavor and contains caffeine.Kola nuts are used mainly for their stimulant and euphoriant qualities. They have effects similar to other xanthine-containing herbs like cocoa, tea, coffee, guarana and yerba mate. However, the effects are distinctively different, producing a stronger state of euphoria and well being. They have stimulant effects on the central nervous system and heart. Animal experiments indicate that kola nuts have analeptic and lipolytic (fat-burning) properties, and stimulate the secretion of gastric juices. Human studies show kola nuts have positive chronotropic and weak diuretic effects. In humans it enhances alertness and physical energy, elevates mood, increases tactile sensitivity and suppresses the appetite. Autonomic changes include increased body temperature, increased blood pressure and increased respiratory rate. Effects may last up to 6 hours after ingestion.
For more information of product, please send the email to bkherb@globals-globals.com


After send online enquiry, we will reply you as soon as possible, if not get any response on time please contact us by Tel or Email.This form is unable to receive your inquiry from aol, hotmail, gmail or others but company email address.
E-MAIL:bkherb@globals-globals.com
TEL: +86 592 536 5868
WHATSAPP: +86 189 6516 2351