Kelp or Tangle Extract
Kelp or Tangle Extract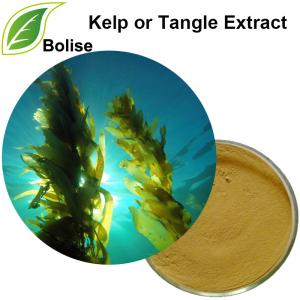 [Botanical Name]  Laminaria japonica Aresch./Ecklonia kurome Okam./Thallus LaminariaeThallus Eckloniae 
[Part(s) of herb used] Whole Herb
[Specification]  alginate,alginic acid         
[Detection method] HPLC
[Appearance]  Brown Fine Powder
COA of Kelp Extract
Loss on drying: 2.56%
Ash: 2.36%
Mesh Size: 100% pass 80 mesh
Iodine: 0.14%
Heavy metal: ≤20ppm
As: ≤2.0ppm
Residual Pesticide: Negative
Total Plate Count: ≤1000cfu/g
Yeast & Mold: ≤100cfu/g
Salmonella: Negative
E. Coli: Negative
About Kelp or Tangle Extract
Kelp or Tangle is the dried thalline of Laminaria japonica Aresch. (Fam. Laminariaceae).or Ecklonia kurome Okam. (Fam. Alariaceae).
Kelp commonly referred to as seaweed, grows along coastlines around the world. Botanically it is classified as algae. It is a rich source of natural vitamins and minerals, including essential trace minerals. Kelp is dependent upon the sea for its nourishment -- an excellent source since the sea is the repository of all the minerals that have been washed from the land through the millennia. The plant can grow as much as two feet per day, and the entire plant is used in herbology.  
Kelp extract is especially high in iodine, which must be present for proper glandular function and metabolism. It also contains iron, sodium, phosphorus and calcium, as well as magnesium and potassium. Kelp is a source of vitamins A, B1, B2, C, D and E, plus amino acids. Kelp extract also makes a popular salt substitute. Because the plant's nutrients come in a natural form, they are easily assimilated by the body. 
Functions: To eliminate phlegm, soften hard masses and dissolve lumps , and to cause diuresis.
Indications: Goiter, scrofula, swelling and pain of the testis; edema.
[ Storage ]
Store in cool & dry place; Keep away from strong light and high heat.
[ Shelf life ]
24 months when properly stored
[ Package ]
Enterprise standard. Drums or cartons, 25kgs/drum(carton),2.5kg/bag, double vacuum plastic packing (vacuum sealed foil bags) inside.
For more information of product, please send the email to bkherb@globals-globals.com


After send online enquiry, we will reply you as soon as possible, if not get any response on time please contact us by Tel or Email.This form is unable to receive your inquiry from aol, hotmail, gmail or others but company email address.
E-MAIL:bkherb@globals-globals.com
TEL: +86 592 536 5868
WHATSAPP: +86 189 6516 2351