Japanese Ampelopsis Root Extract(Radix Ampelopsis Extract)
Japanese Ampelopsis Root Extract(Radix Ampelopsis Extract)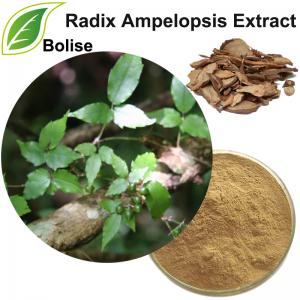 Specification: tartaric acid,fumaric acid
Detection method:  HPLC
Botanical Name:  Ampelopsis japonica (Thunb.) Makino
About Japanese Ampelopsis Root Extract:
Japanese Ampelopsis Root is the dried root tuber of Ampelopsis japonica (Thunb.) Makino (Fam.Vitaceae).
Functions: To remove toxic heat, to cure carbuncles, and to reduce nodules.
Indications: Carbuncle, deep-rooted boils, scrofula, scalds and burns.
Usage: Appropriate quantity to be decocted for washing or ground into fine powder for topical application.
Precaution: Incompatible with Radix Aconiti and allied drugs.
For more information of product, please send the email to bkherb@globals-globals.com


After send online enquiry, we will reply you as soon as possible, if not get any response on time please contact us by Tel or Email.This form is unable to receive your inquiry from aol, hotmail, gmail or others but company email address.
E-MAIL:bkherb@globals-globals.com
TEL: +86 592 536 5868
WHATSAPP: +86 189 6516 2351