Janan Fatsia Extract(Fatsia Japonica Extract)
Janan Fatsia Extract(Fatsia Japonica Extract)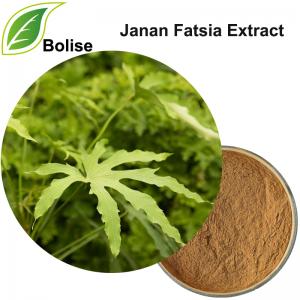 Specification: Aralium
Detection method: HPLC
Botanical Name:  Fatsia japonica (Thunb) Decne et Planch
About Janan Fatsia:
Fatsia japonica (Fatsi or Japanese Aralia; syn. Aralia japonica Thunb., A. sieboldii Hort. ex K.Koch) is a species of Fatsia, native to southern Japan.
It is an evergreen shrub growing to 3-6 m tall, with stout, sparsely branched stems. The leaves are spirally-arranged, large, 20-50 cm in width and on a petiole up to 50 cm long, leathery, palmately lobed, with 7-9 broad lobes, divided to half or two-thirds of the way to the base of the leaf; the lobes are edged with coarse, blunt teeth. The flowers are small, white, borne in dense terminal compound umbels in late autumn or early winter, followed by small black fruit.
The name "Fatsi" is older Japanese, meaning 'eight' (in present-day Japanese hachi), referring to the eight lobes. The name "Japanese Aralia" is due to the genus formerly being classified within a broader interpretation of the related genus Aralia in the past.
Aralium is an extract of the plant Fatsia japonica (Japanese Aralia). It naturally contains triterpene glycosides which are primarily derivatives of hederagenin and oleanic acid.Aralium provides natural joint and tissue support in healthy individuals.
For more information of product, please send the email to bkherb@globals-globals.com


After send online enquiry, we will reply you as soon as possible, if not get any response on time please contact us by Tel or Email.This form is unable to receive your inquiry from aol, hotmail, gmail or others but company email address.
E-MAIL:bkherb@globals-globals.com
TEL: +86 592 536 5868
WHATSAPP: +86 189 6516 2351