Isatis Root Extract
Isatis Root Extract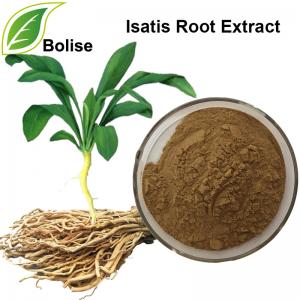 [ Botanical Name ]  Isatis indigotica Fort.
[ Used Part ] Root
[ Specification ]  60%Indirubin
[ Detection method ] HPLC
[ Appearance ]  Brown Fine Powder
COA of Isatis Root Extract
Loss on drying: 2.21%
Ash: 2.46%
Mesh Side: 100% pass 80 mesh
Ratio extract: 10:1
Heavy metal: ≤10ppm
As:  ≤4.0ppm
Residual Pesticide:  Negative
Total Plate Count: ≤1000cfu/g
Yeast & Mold: ≤100cfu/g
Salmonella: Negative
E. Coli: Negative
About Isatis Root Extract
Isatis Root Extract contains indigo, indirubin, beta-sterol, uridine, hypoxanthine, uracil, indigo ketone, daucosterol, etc.
Isatis root can inhibit a variety of gram-positive bacteria and gram-negative bacteria and viruses and it has a certain inhibitory effect on platelet aggregation induced by ADP.
Isatis root can also strengthen immune functions.Clears away heat to expel toxic substances, removes heat from the blood and soothes the throat.
Indications:
For treating febrile diseases such as fever, headache and sore throat as well as a variety of ailments due to exuberant toxic heat, such as maculae (a stain, spot or thickening of the skin) caused by intense toxic heat, mumps, skin and external diseases, erysipelas (an acute febrile disease associated with intense local inflammation of the skin) and infection with swollen head.
[ Storage ]
Store in cool & dry place; Keep away from strong light and high heat.
[ Shelf life ]
24 months when properly stored
[ Package ]
Enterprise standard. Drums or cartons, 25kgs/drum(carton),2.5kg/bag, double vacuum plastic packing (vacuum sealed foil bags) inside.
For more information of product, please send the email to bkherb@globals-globals.com


After send online enquiry, we will reply you as soon as possible, if not get any response on time please contact us by Tel or Email.This form is unable to receive your inquiry from aol, hotmail, gmail or others but company email address.
E-MAIL:bkherb@globals-globals.com
TEL: +86 592 536 5868
WHATSAPP: +86 189 6516 2351