Horsetail Extract
Horsetail Extract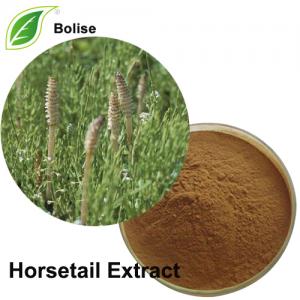 [ Specification ]   7% silica acid
[ Detection Method ]   UV
[ Botanical Name ]  Equisetum arvense (L)  /Equisetum pratense
[ Used Part ]  Stem
[ Appearance ] Brown fine powder
[ Function ] 
Protecting the stomach and relieve the pain
Aescigenin can be used to dimishi inflammation.
The water boiled with horse chestnut can obviously inhibit hte gastric acid secreting and protect gastric mucosa and lill the sperms.
COA of Horsetail Extract
Extract solvent: Water & alcohol
Loss on drying: 4.68%
Ash: 8.62%
Mesh Side: 100% pass 80 mesh
Thiaminase: Negative
Heavy metal: ≤10ppm
As: ≤2.0ppm
Pb: ≤2.0ppm
Residual Pesticide:Negative
Total Plate Count: ≤1000cfu/g
Yeast & Mold: ≤100cfu/g
Salmonella: Negative
E. Coli: Negative
About Horsetail Extract
Horsetail is valued for its high content of mineral; especially Silica which makes it of value in promoting healing and new growth in connective tissue: Osteoporosis, Arthritis, cartilage degeneration, lung, skin, and kidney tissue degeneration. Restrains infection and discharges. Bladder infection, Interstitial cystitis. Neurogenic bladder, difficult or scanty urination. Incontinence. Bladder discharges, Prostatitis. Stomach ulcers. Leg and skin ulcers and degenerative skin conditions (internal and external). Poor nails, hair. Degenerative lung disease.
[ Storage ] Store in cool and dry place.keep away from strong light and heat.
[ Shelf life ] 24 months.
For more information of product, please send the email to bkherb@globals-globals.com


After send online enquiry, we will reply you as soon as possible, if not get any response on time please contact us by Tel or Email.This form is unable to receive your inquiry from aol, hotmail, gmail or others but company email address.
E-MAIL:bkherb@globals-globals.com
TEL: +86 592 536 5868
WHATSAPP: +86 189 6516 2351