HogfenneI Root Extract(Peucedanum Root Extract)
HogfenneI Root Extract(Peucedanum Root Extract)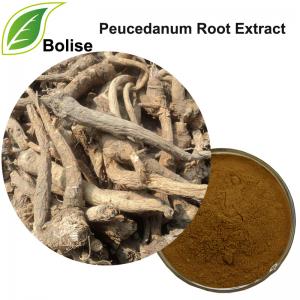 Pharmaceutical Name: Radix Peucedani 
Specification: nodakenin,decursin,marmesin
Detection method:  HPLC 
Botanical Name:  Peucedanum decursivum(Miq.) Maxim./ Peucedanum praeruptorum Dunn
Properties & Taste:  Bitter, pungent and slightly cold  
Actions:
1) To promote dispersing function of the lungs and clear heat; 
2) To resolve phlegm and stop cough
Indications & Combinations:
1)Phlegm-heat accumulating in the lungs manifested as cough with yellow and thick sputum. Peucedanum root (Qianhu) is used with Mulberry bark (Sangbaipi), Trichosanthes fruit (Gualou) and Tendrilled fritillary bulb (Chuanbeimu) in the formula Qianhu San. 
2) Cough due to invasion by exogenous pathogenic wind and heat. Peucedanum root (Qianhu) is used with Mentha (Bohe), Arctium fruit (Niubangzi) and Platycodon root (Jiegeng).
For more information of product, please send the email to bkherb@globals-globals.com


After send online enquiry, we will reply you as soon as possible, if not get any response on time please contact us by Tel or Email.This form is unable to receive your inquiry from aol, hotmail, gmail or others but company email address.
E-MAIL:bkherb@globals-globals.com
TEL: +86 592 536 5868
WHATSAPP: +86 189 6516 2351