Hericium erinaceus extract(Monkey head mushroom extract)
Hericium erinaceus extract(Monkey head mushroom extract)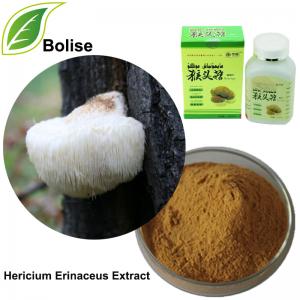 [ Botanical Name ] Hericium erinaceus(Bull.) Persoon
[ Specification ] 15%Polysaccharides
[ Detection method ] HPLC
[ Used Part ] Fruiting body
[ Appearance ] Brown powder 
COA of Hericium Erinaceus Extract
Loss On Drying:  ≤5.0%
Ash:  ≤5.0%
Mesh Size:  100% through 80 mesh
Ratio Extract: 10:1
Heavy Metal: ≤20.0ppm
Arsenic: ≤1.0ppm
Lead:  ≤5.0ppm
Total Plate Count: ≤1000cfu/g
Yeast & Mold: ≤100cfu/g
Salmonella: Negative
E.coil:  Negative
About Hericium erinaceus extract(Monkey head mushroom extract):
Hericium erinaceus is a type of mushroom that has been used traditionally in China and Japan for hundreds of years, as said that " Hericium erinaceus is precious in the mountains and swallows&acute nest is precious in seafood". Every 100 grams of dried fungus contain 26.3 g protein, 4.2 g fat. Meanwhile it is also abundant with amino acids, Vb, and Ca, p, Fe and more. 
Hericium erinaceus is commonly prescribed for stomach ailments and for cancer prevention, furthermore, it has anti- tiredness ,anti- oxidation , anti- mutation , anti-tumor and lowering blood pressure functions. 
In clinical use, it is used to cure gastric cancer and other digestive disease . Research has proved that the products of Hericium erinaceus have proven positive effects for sufferers. 
At present which is the most active ingredient in Hericium erinaceus is blurry, but the polysaccharides and leanolic Acid extracted from Hericium erinaceus have proved to be effective
[ Storage ] Store in cool and dry place. keep away from strong light and heat.
[ Shelf life ] 24 months.
For more information of product, please send the email to bkherb@globals-globals.com


After send online enquiry, we will reply you as soon as possible, if not get any response on time please contact us by Tel or Email.This form is unable to receive your inquiry from aol, hotmail, gmail or others but company email address.
E-MAIL:bkherb@globals-globals.com
TEL: +86 592 536 5868
WHATSAPP: +86 189 6516 2351