Helichryse Extract(Immortelle extract)
Helichryse Extract(Immortelle extract)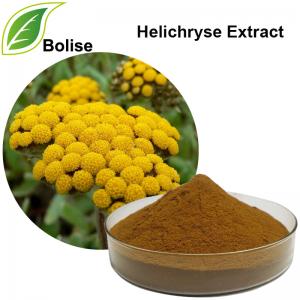 [ Ohter name ] Helichrysum Arenarium Extract
[ Botanical Name ] Helichrysum arenarium (Linn.) Moench.
[ Specification ] 10:1 20:1 30:1
[ Detection method ]  HPLC
[ Appearance ]  Brown Powder
[ Part of Used ] leaf and flower
[ Active ingredients ]  flavonoids, tannins
COA of Helichrysum Arenarium Extract
Loss on drying: 2.14%
Ash: 1.38%
Mesh Size: 100% pass 80 mesh
Flavonoids: 98%
Heavy metal: ≤10ppm
As: ≤0.5ppm
Pb: ≤0.5ppm
Cd: ≤0.5ppm
Residual Pesticide: Negative
Total Plate Count: ≤1000cfu/g
Yeast & Mold: ≤100cfu/g
Salmonella: Negative
E. Coli: Negative
About Helichryse Extract(Immortelle Extract)
Helichrysum Arenarium Flower Extract is the extract of the flowers of the Everlasting, Helichrysum arenarium (L.), Asteraceae.
Helichryse Extract has wonderful regenerating qualities and greatly helps with healing of scars, acne, dermatitis, stretch marks, boils and abscesses. The toning qualities are phenomenal and are used to perk up and bind loose hanging skin.
It also has a strong straw-like, fruity smell with a honey and tea undertone and the color can range from pale yellow to red.
The main constituents of Helichryse Extract are flavonoids, tannins, essential oil, resin and phytosterin, with the essential oil containing neryl acetate, nerol, geraniol, pinene, and linalool. The plant also contains isosalipurposide, naringenin, naringenin-5-O-diglucoside, helichrysum A, helichrysum B and glucosides of apigenin, luteolin, kaempferol and quercetin.
For more information of product, please send the email to bkherb@globals-globals.com


After send online enquiry, we will reply you as soon as possible, if not get any response on time please contact us by Tel or Email.This form is unable to receive your inquiry from aol, hotmail, gmail or others but company email address.
E-MAIL:bkherb@globals-globals.com
TEL: +86 592 536 5868
WHATSAPP: +86 189 6516 2351