Gromwell Root Extract(Arnebia Root Extract)
Gromwell Root Extract(Arnebia Root Extract)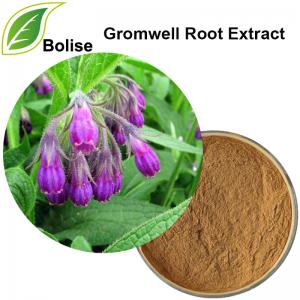 [ Botanical Name ]  Lithospermum erythrorhizon Sieb.'et Zucc.
[ Specification ] shikonin30%,Anhydroalkannin 
                         10:1
[ Detection method ]  HPLC
[ Part used ] whole herb
[ Appearance ]  Brown yellow fine powder
[ Applications ]
(1). Applied in food field
(2). Applied in pharmaveutical field
(3). Applied in cosmetic field
About Gromwell Root Extract(Arnebia Root Extract)
Shinikon is contained in the root of perennial murasaki (Lith-ospermum erythrorhizon Sieb.'et Zucc.) growing naturally in Japan, China and the Korean peninsula. A red-purple dye extracted from the root of murasaki is being used as a cosmetics ingredient. Antiinflammatory effect, wound healing acceleration, antitumor effect, etc. have been reported as the pharmacological effects of the active component of shikonin. In shikonin, alkannin is present as an optic isomer. This product is listed in the Japanese Pharmacopoeia 14th Edition and used for identification and content test of the active component of shinikon.
Gromwell root extract acts on the heart and liver channels. The herb is mainly effective in the heart, liver and blood. Its sweet and cold properties clear away heat and moisturize dryness.
For more information of product, please send the email to bkherb@globals-globals.com


After send online enquiry, we will reply you as soon as possible, if not get any response on time please contact us by Tel or Email.This form is unable to receive your inquiry from aol, hotmail, gmail or others but company email address.
E-MAIL:bkherb@globals-globals.com
TEL: +86 592 536 5868
WHATSAPP: +86 189 6516 2351