Grape Seed Extract
Grape Seed Extract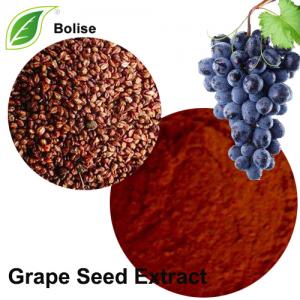 [ Botanical name ]     Vitis Vinifera L.
[ Main specifications ]     Polyphenol 80%  95%, Proanthocyanidins 95%
[ Detection methods ]  HPLC
[ Used Part ] Seed
[ Appearance ]  Red- Brown Powder
[ Active ingredien t] 
Polyphenols with low monomeric content ( epicatechin and catechin less than 4%), rich in oligomeric and polymeric proanthocyanidines (OPC), obtained from non fermented grape seeds (international patent deposited).
[ Major Benefits ]
Considered as the strongest anti-oxidant for fighting free radicals: a real alley in the fight against aging. Protection from UV rays Helper in softening and giving elasticity to skin and to protect connective tissues. Strengthens blood capillaries and periferic circulation.
COA of Grape Seed Extract
Loss on drying: 2.14%
Ash: 0.31%
Mesh Size: 100% pass 80 mesh    
Total polyphenols: ≥95%
Procyanidoles: > 70 %
Anthocyanins: > 4 %
Heavy metal: ≤10ppm
As: ≤2.0ppm
Residual Pesticide: Negative
Total Plate Count:  ≤1000cfu/g
Yeast & Mold:  ≤100cfu/g
Salmonella:  Negative
E. Coli : Negative
About Grape Seed Extract
Grape is produced originally in the caribbean area,and Asia Minor, planted in the warm areas of the northern hemisphere, especially in Europe and the south of Middle Asia. Proanthocyanidins in grape seed exeract is thiry to fifty times as effective as Vitamin C and Vitamin E with regard to anti-oxidation and that it can pass through the screen in blood and brain within the human body smoothly and protect the brain and neurosystem effecaciously, exterminating free radicals obviously, improving blood circulation, decreasing the blood viscosity and inhibiting heart disease and other illness. Besides, It can maintain the elasticity and water of the skin, delaying the appearance of the wrinkles.
[Storage] Store in cool and dry place.keep away from strong light and heat.
[Shelf life] 24 months.
For more information of product, please send the email to bkherb@globals-globals.com


After send online enquiry, we will reply you as soon as possible, if not get any response on time please contact us by Tel or Email.This form is unable to receive your inquiry from aol, hotmail, gmail or others but company email address.
E-MAIL:bkherb@globals-globals.com
TEL: +86 592 536 5868
WHATSAPP: +86 189 6516 2351