Gotu Kola Extract(Centella Asiatica Extract)
Gotu Kola Extract(Centella Asiatica Extract)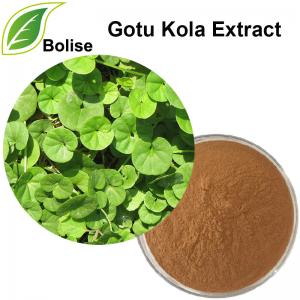 [ Botanical Name ] Centell(asiatica (L.)Urban.
[ Used Part ] Whole Herb
[ Specification ]  Asiaticosides90%
[ Detection method ] HPLC
[ Appearance ] Brown-Yellow Powder
[ Application ]
(1). Applied in food field, it is mainly used as food additives, it also can be added into many kinds of product;
(2). Applied in health product field, it has good effect for cardiovascular diseases and cancer;
(3). Applied in pharmaceutical field, it can be used to prevent variety of cardiovascular disease
COA of Gotu Kola Extract(Centella Asiatica Extract)
Loss on drying: 3.64%
Mesh Side: 100% pass 80 mesh
Heavy metal: ≤10ppm
As: ≤0.5ppm
Pb: ≤0.5ppm
Cd: ≤0.5ppm
Residual Pesticide: Negative
Total Plate Count: ≤1000cfu/g
Yeast & Mold:  ≤100cfu/g
Salmonella:  Negative
E. Coli: Negative
About Centella Asiatica Extract
Centella Asiatica, also known as Brahmi, has been used as a medicinal herb for thousands of years in India, China and Indonesia. Its ability to improve mental clarity and revitalize brain cells is phenomenal. Centella Asiatica herb is one of the dominating herbs for stimulating the nerves hence this plant is primarily known as a brain food in India. It has been used for many purposes including: boosting memory, increasing concentration, alertness, as well as anti-anxiety and anti-stress.
Damp heat jaundice, heat stroke, diarrhea sand blood rain, carbuncle swollen chuangdu, fall damage. Centella asiatica can tighten the epidermis and dermis connection part, can make the skin soft and help solve the skin flabby phenomenon (especially postpartum mother), make the skin smooth and elastic; To help promote the formation of collagen in the dermis, regenerated protein fiber, reconnect, fundamentally eliminate the mother grain, make skin to achieve the effect of firming smooth.
For more information of product, please send the email to bkherb@globals-globals.com


After send online enquiry, we will reply you as soon as possible, if not get any response on time please contact us by Tel or Email.This form is unable to receive your inquiry from aol, hotmail, gmail or others but company email address.
E-MAIL:bkherb@globals-globals.com
TEL: +86 592 536 5868
WHATSAPP: +86 189 6516 2351