Gordon Euryale Seed Extract(Semen Euryales Extract)
Gordon Euryale Seed Extract(Semen Euryales Extract)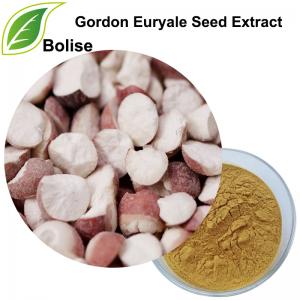 Specification:  10:1  20:1          
Detection method: HPLC        
Botanical Name: Euryale ferox Salisb. 
About Gordon Euryale Seed Extract:
Gordon Eurylae Seed is the dried kernel of ripe seed of Euryale ferox Salisb. (Fam. Nymphaeaceae).
Functions: To benefit the kidney and arrest seminal discharge, to invigorate the function of the spleen and relieve diarrhea, and to remove damp check excessive leukorrhea.
Indications: Nocturnal emission, spermatorrhea, enuresis, frequent urination; chronic diarrhea due to hypofunction of the spleen; turbid discharge mixed with urine, excessive leukorrhea.
For more information of product, please send the email to bkherb@globals-globals.com


After send online enquiry, we will reply you as soon as possible, if not get any response on time please contact us by Tel or Email.This form is unable to receive your inquiry from aol, hotmail, gmail or others but company email address.
E-MAIL:bkherb@globals-globals.com
TEL: +86 592 536 5868
WHATSAPP: +86 189 6516 2351