Goldenrod Extract
Goldenrod Extract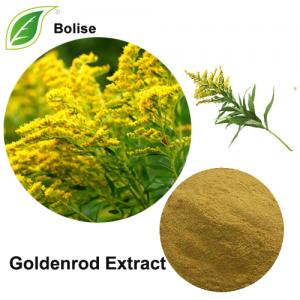 [ Botanical Name ] Solidago decurens Lour.
[ Specification ] 5:1 rutin,leiocarposide
[ Test Method ] HPLC;UV
[ Active Ingredient ]
Rutin; Kaemferol-3-3rutinoside; Leiocarposide; Benzyl-2,6-dimethoxybenzoate; 3,5-dimethoxy-4-acetoxycinnamylangelate; Matricariaester
[ Apearance ] Brown yellow fine powder
[ Parts used ] Herb
[ Application ] Mainly used in health care products, functional beverages, pharmaceutical intermediates, etc.
COA of Goldenrod Extract
Partical size: 100% pass 80 mesh
Loss on drying: ≤5%
Ash: ≤5%
Heavy metals: ≤10ppm
Pb: ≤2.0ppm
As: ≤2.0ppm
Total of bacteria: ≤1000cfu/g
Fungi: ≤100cfu/g
Salmgosella: Negative
Coli: Negative
Staphylococcus: Negative
Function of Goldenrod Extract
1.  Used to treat internal bleeding
2. Used to treat rheumatic illness
3. Tonifying kidney and helps to clear up kidney and bladder stones
4.  Helps with kidney and urinary infections and to ease the backaches often associated with these conditions
5. Used to treat enlargement of the liver
6. Used to treat tuberculosis
About Goldenrod Extract
The plant contains tannin, with some bitter and astringent principles. Golden Rod is an ingredient in the Swiss Vulnerary, faltrank. It is astringent and diuretic and efficacious for stone in the bladder. It is recorded that in 1788 a boy of ten, after taking the infusion for some months, passed quantities of gravel, fifteen large stones weighing up to 1 1/4 OZ., and fifty over the size of a pea. It allays sickness due to weak digestion. 
In powder it is used for cicatrization of old ulcers. It has been recommended in many maladies, as it is a good diaphoretic in warm infusion, and is in this form also helpful in dysmenorrhoea and amenorrhoea. As a spray and given internally, it is of great value in diphtheria.
For more information of product, please send the email to bkherb@globals-globals.com


After send online enquiry, we will reply you as soon as possible, if not get any response on time please contact us by Tel or Email.This form is unable to receive your inquiry from aol, hotmail, gmail or others but company email address.
E-MAIL:bkherb@globals-globals.com
TEL: +86 592 536 5868
WHATSAPP: +86 189 6516 2351