Goat´s Rue Extract(Cheese Rennet Extract)
Goat´s Rue Extract(Cheese Rennet Extract)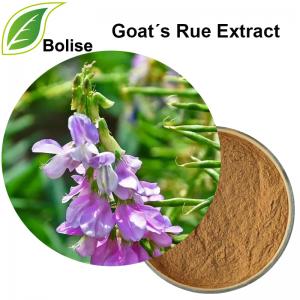 [ Botanical Name ] Galega officinalis L
[ Specification ] 50% guanidine,galegine
[ Detection method ] HPLC
[ Used Part ] Bean
[ Appearance ]  Brown-Yellow Fine powder
COA of Goat´s Rue Extract
Loss on drying: 3.19%
Ash: 3.12%
Mesh Side: 100% pass 80 mesh
Extraction Ratio: 10:1
Heavy metal: ≤10ppm
As: ≤2.0ppm
Residual Pesticide:  Negative
Total Plate Count: ≤1000 cfu / g
Yeast & Mold:  ≤100 cfu/ g
Salmonella: Negative
E. Coli: Negative
About Goat´s Rue Extract(Cheese Rennet Extract)
Goat&acutes rue (Galega officinalis), or French Lilac, has historically been used for the treatment of diabetes since medieval times. The glucose and insulin-lowering effects of Goat&acutes rue extract are due to the natural substance, guanidine. Guanidine (Fig.4.) is the herbal prototype for the insulin-sensitizing, glucose-lowering anti-diabetic drug, Metformin (Glucophage), and for the related substance, aminoguanidine. The use of raw Goat&acutes rue is limited in diabetes by its toxicity. The toxicity of Goat&acutes rue is due to a substance known as galegine (Fig. 5), which can cause reductions in blood pressure and nasal discharge. Vitamin Research&acutes Goat&acutes rue extract is a special preparation that is standardized to contain 50% guanidine, with negligible amounts of galegine. VRP&acutes purified, high-guanidine form of Goat&acutes rue presumably shares most of the beneficial effects of aminoguanidine and Metformin, with none of the adverse effects of raw Goat&acutes rue herb.
[ Storage ]
Store in cool & dry place; Keep away from strong light and high heat.
[ Shelf life ]
24 months when properly stored
[ Package ]
Enterprise standard. Drums or cartons, 25kgs/drum(carton),2.5kg/bag, double vacuum plastic packing (vacuum sealed foil bags) inside.
For more information of product, please send the email to bkherb@globals-globals.com


After send online enquiry, we will reply you as soon as possible, if not get any response on time please contact us by Tel or Email.This form is unable to receive your inquiry from aol, hotmail, gmail or others but company email address.
E-MAIL:bkherb@globals-globals.com
TEL: +86 592 536 5868
WHATSAPP: +86 189 6516 2351