Glabridin (Licorice Root extract)
Glabridin (Licorice Root extract)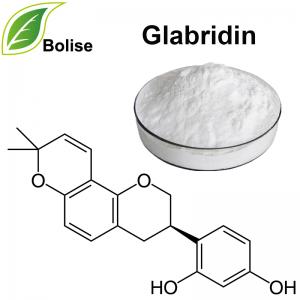 [ Botanical Name]  Licorice root
[ Specification ]  40% glabridin
[ Detection method ]  HPLC
[ CAS NO. ] 59870-68-7
[ Molecular Formula ]C20H20O4 
[ Molecular Weight ] 324.376
[ Used Part ] Root
COA of Glabridin
Appearance: White powder
Melt point: 122℃
Specific Optical Rotation: +47°
Solubility:  Soluble in ethanol , acetone , aether etc.;  insoluble in water.
Mesh Size: 80 mesh
Loss on Drying: 2.00%
Ash: 0.16%
Heavy Metal:  <10ppm
As: <2ppm
Residual Solvents: Eur. Pharm.
Pesticides:  Negative
About Glabridin
Glabridin is the main compound of Licorice root extract.Glabridin is known for its beneficial effects on the skin due to its anti-inflammatory and antioxidant properties.
Glabridin has two main effects:
 1)Glabridin inhibits melanogenesis. Some researchers have established that this effect may be due to the inhibition of tyrosinase activity.
 2)Glabridin is a phytoestrogen, binding to the human estrogen receptor and stimulating creatine kinase activity in rat uterus, epiphyseal cartilage, diaphyseal bone, aorta, and left ventricle of the heart.Glabridin and its derivatives exhibited varying degrees of estrogen receptor agonism in different tests and demonstrated growth-inhibitory actions on breast cancer cells.
[ Storage ] Store in cool & dry place. Do not freeze.
    Keep away from strong light and heat.
[ Shelf life ]  2 years when properly stored.
For more information of product, please send the email to bkherb@globals-globals.com


After send online enquiry, we will reply you as soon as possible, if not get any response on time please contact us by Tel or Email.This form is unable to receive your inquiry from aol, hotmail, gmail or others but company email address.
E-MAIL:bkherb@globals-globals.com
TEL: +86 592 536 5868
WHATSAPP: +86 189 6516 2351