Ginseng Extract
Ginseng Extract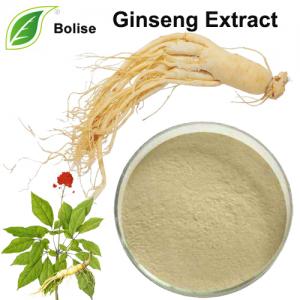 [ Specification ]     Ginsenosides 80%
[ Detection method ]       HPLC
[ Botanical Name ]     Panax ginseng C. A. Mey.
[ Used Part ] Root
[ Appearance ] Yellow-white to light yellow powder
[ Main content ]  panaxoside
[ COA of Ginseng Extract ]
Loss on drying: 3.21%
Ash: 2.36%
Mesh Size: 100% pass 80 mesh
Extract Ratio: 10:1
Heavy metal: ≤20ppm
As: ≤2.0ppm
Residual Pesticide: Negative
Total Plate Count: ≤1000cfu/g
Yeast & Mold: ≤100cfu/g
Salmonella: Negative
E. Coli: Negative
[ About Ginseng Extract ] 
Ginseng is the most famous Chinese herb. It is the most widely recognized plant used in traditional medicine. Various forms of ginseng have been used in medicine for more than 7000 years. Several species grow around the world, and though some are preferred for specific benefits, all are considered to have similar properties as an effective general rejuvenator.
Ginseng Extract has been used as a health food for several thousand years. This Ginseng powder is used as an ingredient in health foods and beverages.
Ginseng root extract have the effect of stimulation on central nervous system, but will have inhibition if use too much; it can enhance the process of stimulation and inhibition on higher nervous activity of animals.
[ Part used ] 
Whole root. Powdered in capsules, as an ingredient in many herbal formulas, and as a tea.
[ Common Use ]
Ginseng extract is one of the most popular healing herbs used today throughout the world. It increases mental and physical efficiency and resistance to stress and disease. Ginseng's adaptogenic qualities help balance the body, depending on the individual's needs. It is known to normalize blood pressure, increase blood circulation and aid in the prevention of heart disease.
According to Traditional Chinese Medicine Panax Ginseng promotes Yang energy, improves circulation, increases blood supply, revitalizes and aids recovery from weakness after illness, and stimulates the body.
[ Care ]  
A perennial herb with a large, slow growing root. Requires a loose, rich soil, with a heavy mulch of leaves and only 20% sun.
[ Storage ] Store in cool and dry place.keep away from strong light and heat.
[ Shelf life ] 24 months.
For more information of product, please send the email to bkherb@globals-globals.com


After send online enquiry, we will reply you as soon as possible, if not get any response on time please contact us by Tel or Email.This form is unable to receive your inquiry from aol, hotmail, gmail or others but company email address.
E-MAIL:bkherb@globals-globals.com
TEL: +86 592 536 5868
WHATSAPP: +86 189 6516 2351