Garden Euphorbia Herb Extract
Garden Euphorbia Herb Extract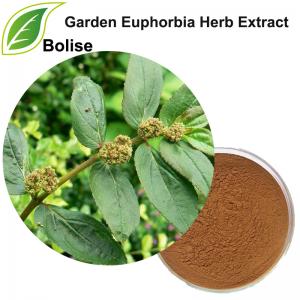 [Specification]  Epicatechin gallate
[Detection methods]   HPLC
[Botanical name]   Euphorbia hirta L.
[About Euphorbia extract]  
  Euphorbia extract is a common herb extract found all over China.The extract of Euphorbia has
been found to have significant anti-inflammatory, analgesic, haemostatic (stops bleeding) and
wound healing properties. Preclinical and clinical trials have demonstrated its efficacy as an anti-hemorrhoid agent.
[Pharmacology]
 The major components of Euphorbia Extract are Apigenin, Luteolin,Apigenin-7-glucoside and Luteolin-7-glucoside. The major phenolic compounds present are Gallic acid, Ellagic acid and Tannins.
  Euphorbia extract can serve more than his mouth tingle throat, stomach discomfort,diarrhea, dizziness, poisoning; it has direct contact with skin and mucous role in stimulating red primers.
[Package]
Cardboard drums, with double aseptic food poly bags inside. Or by cartons,with vacual aseptic food poly bags inside, 20kgs per carton with 8 bags inside,25kg per bag.
For more information of product, please send the email to bkherb@globals-globals.com


After send online enquiry, we will reply you as soon as possible, if not get any response on time please contact us by Tel or Email.This form is unable to receive your inquiry from aol, hotmail, gmail or others but company email address.
E-MAIL:bkherb@globals-globals.com
TEL: +86 592 536 5868
WHATSAPP: +86 189 6516 2351