Galla Chinensis Extract
Galla Chinensis Extract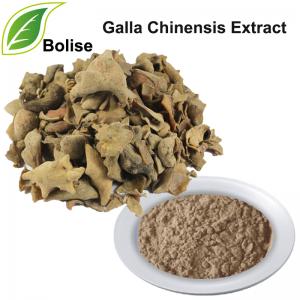 [ Botanical Name ]  Melaphis chinensis (Bell) Baker 
[ Part Use ]  Herb
[ Specification ] ≥90.0%Ellagic Acid
[ Detection method ]  HPLC
[ Appearance ]  Fine Grey powder
Function of Galla Chinensis Extract
1. Anti-oxidation, eliminate free radicals. anti-aging, whiten skin. 
2. Resist human immunodeficiency virus(HIV), anti-virus, anti-bacteria.
3. Lower blood pressure, regulate human metabolism.
4. Treat symptoms caused by high blood sugar and hypertension.
5. Anti-cancer and resist atherosclerosis.
COA of Galla Chinensis Extract
Loss on drying: 3.21%
Ash: 3.06%
Mesh Side: 100% pass 80 mesh
Ellagic Acid: 90.67%
Heavy metal: ≤20ppm
As:  ≤2.0ppm
Residual Pesticide:  Negative
Total Plate Count:  ≤1000 cfu / g
Yeast & Mold:  ≤100 cfu/ g
Salmonella: Negative
E. Coli :  Negative
About Galla Chinensis Extract
Galla Chinensis has the highest concentrations of Ellagic acid,which has been demonstrated to be an effective anti-carcinogen upon carcinoma of rectum and colon, cancer of liver lung cancer, carcinoma of tongue and skin. Besides, the Ellagic Acid is also a great function in sedation and depressurization.
The using range of Ellagic Acid is wide, and usually used as the additive of the drug, health products, as well as in the line of cosmetic.
[ Storage ]
Store in sealed containers at cool & dry place.
Protect from light, moisture and pest infestation.
[ Shelf life ]
24 months when properly stored
[ Package ]
Enterprise standard. Drums or cartons, 25kgs/drum(carton),2.5kg/bag, double vacuum plastic packing (vacuum sealed foil bags) inside.
For more information of product, please send the email to bkherb@globals-globals.com


After send online enquiry, we will reply you as soon as possible, if not get any response on time please contact us by Tel or Email.This form is unable to receive your inquiry from aol, hotmail, gmail or others but company email address.
E-MAIL:bkherb@globals-globals.com
TEL: +86 592 536 5868
WHATSAPP: +86 189 6516 2351