Frankincense Extract(Olibanum Extract)
Frankincense Extract(Olibanum Extract)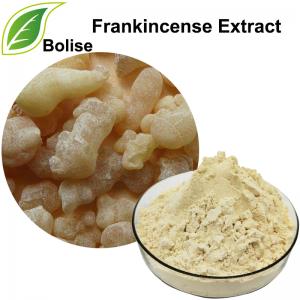 Specification:  65%Boswellic Acid
Detection method: UV
Botanical Name:  Boswellia Serrata
About Frankincense extract:
Frankincense is tapped from the very scraggly but hardy Boswellia tree by scraping the bark and allowing the exuded resins to bleed out and harden. These hardened resins are called tears.
Traditional medicine:
Frankincense is edible and often used in various traditional medicines in Asia for digestion and healthy skin. Edible frankincense must be pure for internal consumption, meaning it should be translucent, with no black or brown impurities. It is often light yellow with a (very) slight greenish tint. It is often chewed like gum, but it is stickier because it is a resin.
In Ayurvedic medicine Indian frankincense (Boswellia serrata) has been used for hundreds of years for treating arthritis.
Burning frankincense repels mosquitos and thus helps protect people and animals from mosquito-born illnesses, such as malaria, West Nile Virus and Dengue Fever.
For more information of product, please send the email to bkherb@globals-globals.com


After send online enquiry, we will reply you as soon as possible, if not get any response on time please contact us by Tel or Email.This form is unable to receive your inquiry from aol, hotmail, gmail or others but company email address.
E-MAIL:bkherb@globals-globals.com
TEL: +86 592 536 5868
WHATSAPP: +86 189 6516 2351