Folium perillae extract(Perilla Leaf Extract)
Folium perillae extract(Perilla Leaf Extract)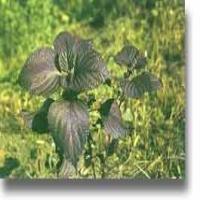 Specification:55%Pe-rillaldehyde 
Detection method:  HPLC
Botanical Name:  Perilla frutescens (L.) Britt.var. crispa (Thunb.) Hand.-Mazz./Perilla frutescens (L.) Britt. var.acuta (Thunb.) Kudo
Properties & taste:   The herb is pungent in flavour, warm in the nature
About Folium perillae:
   Perilla Leaf is the dried leaf (or bearing young branches) of Perilla frutescens (L. ) Britt. (Fam. Labiatae).
Action: 
Inducing sweat to dispel exopathogens, promoting the Qi flow to alleviate stagnation in the middle Jiao, and detoxifying fish and crab.
Indications:
1) The herb is used in combination with apricot kernel and peucedanum root, such as Xiang Su Powder, for dispelling exopathogens, dispersing cold, resolving phlegm, arresting cough, to treat wind-cold due to  exopathogens, aversion to cold and fever, or accompanied by cough; and  with cyperus tuber and tangerine peel, such as Xiang Su Power, for promoting the circulation of Qi, relieving exterior syndromes, to treat exterior syndromes of  wind-cold affected by exopathogens accompanied by Qi stagnation, distention and fullness in the interior.
2) It can be used in combination with pinellia tuber, tangerine peel and other herbs for promoting the circulation of Qi, to treat abdominal distention, anorexia, vomiting and other symptoms caused by Qi stagnation in the spleen and stomach; and with amomum fruit and other herbs for promoting Qi circulation and preventing miscarriage, to treat upward flow of fetus-Qi, pernicious vomiting, oppressed feeling in the chest and vomiting.
3) To treat abdominal pain, vomiting and diarrhea caused by stale fish and crab, the herb can be used in combination with fresh ginger, pinellia tuber and other herbs.
For more information of product, please send the email to bkherb@globals-globals.com


After send online enquiry, we will reply you as soon as possible, if not get any response on time please contact us by Tel or Email.This form is unable to receive your inquiry from aol, hotmail, gmail or others but company email address.
E-MAIL:bkherb@globals-globals.com
TEL: +86 592 536 5868
WHATSAPP: +86 189 6516 2351