Engelhardtia Leaf Extract(Engelhardtia chrysolepis leaf extract)
Engelhardtia Leaf Extract(Engelhardtia chrysolepis leaf extract)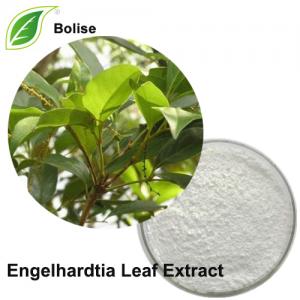 [ Botanical Name ] Engelhardia roxburghiana Wall.
[ Specification ]  Astilbin50%-95% 
[ Detection method ]  HPLC        
[ Active ingredient ] Astilbin 
[ Apperance ] Light  yellow to white fine powder
[ Solubility ] Soluble in Ethanol, partly soluble in water
Function of Engelhardtia leaf Extract 
1, Anti-oxidation, the role of inhibiting obesity.
2, Skin allergies, 3, local inflammation and anti-aging.
3, Lowering blood glucose and enhance immune function
About Engelhardtia Leaf Extract(Engelhardtia chrysolepis leaf extract)
Engelhardtia Leaf P.E. (Engelhardia roxburghiana Wall leaf )Astilbin (3-0-alpha-1-rhamnosyl-(2R,3R)-dihydroquercetin)was in 1950 by Kozo Hayashi and Kazuhiko Ouchi bride down the first time from plant compounds have been extracted , it has been reported in the literature, charged with a variety of glycosides bride significant biological activity, including inhibiting coenzyme A reductase, aldose reductase inhibitor to protect the liver, analgesic, anti-edema. It is reported that in recent years came down bride glycosides have significant selective immunosuppressive effects, and its selective role in the past compared to immunosuppressive agents has obvious advantage, therefore can be used as a new immunosuppressive agent for immune-related disease treatment.
Astilbin (3-0-alpha-1-rhamnosyl-(2R,3R)-dihydroquercetin), the major constituent isolated from Hymeneae martiana and some derivatives obtained by structural modification, such as taxifolin and two related compounds, were evaluated as analgesics by using both writhing test and formalin test in mice. Their anti-oedematogenic actions were also analysed against paw oedema caused by carrageenan, dextran and bradykinin in rat.
For more information of product, please send the email to bkherb@globals-globals.com


After send online enquiry, we will reply you as soon as possible, if not get any response on time please contact us by Tel or Email.This form is unable to receive your inquiry from aol, hotmail, gmail or others but company email address.
E-MAIL:bkherb@globals-globals.com
TEL: +86 592 536 5868
WHATSAPP: +86 189 6516 2351