Elecampane Root Extract
Elecampane Root Extract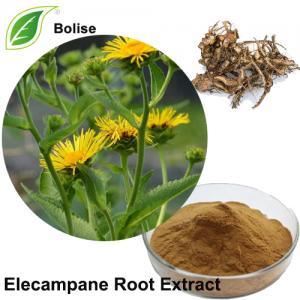 [ Specification ]  12-15% organic alcohol, 10% helenalin.
[ Detection method ]  HPLC 
[ Botanical name ]   lnula helenium L.
[ Pharmacology function ]   Promotes Healthy Lungs.
[ Forms ]   Powered root or root extract of elecampane.
[ Appearance ] Brown Grey Powder
COA of Elecampane lnula Root Extract
Loss on drying: 3.82%
Ash: 3.20%
Mesh Side: 100% pass 1000 mesh    
Helenalin: ≥10%
Heavy metal: <20ppm
As:≤2.0ppm
Residual Pesticide: Negative
Total Plate Count: <1000cfu / g
Yeast & Mold : <100cfu/ g
Salmonella: Negative
E. Coli : Negative
About Elecampane Root Extract
Elecampane root, Inula helenium L. [Fam. Asteraceae], is native to southern and eastern Europe but is now cultivated in central Europe, the Near East and North America. Traditionally, elecampane root was used to treat respiratory problems, digestive disorders and urinary conditions. When given as an expectorant, it is recommended only for coughs that are accompanied with secretions or phlegm. If taken with dry cough, elecampane root may make the chest feel constricted and tight. A recent study found that elecampane root contains compounds active against tuberculosis bacteria. Fractions of root extracts of elecampane, which exhibited significant activity against Mycobacterium tuberculosis, contained the known eudesmanolides (alantolactone, isoalantolactone, and 11 alpha H, 13-dihydroisoalantolactone). Up to fifty percent of elecampane root is made up of complex carbohydrates known as fructo-oligo-saccharides (FOS), including 20-44% inulin. Based on clinical studies, inulin increases mineral absorption during digestion, boosts beneficial bifidobacteria within the gut and eliminates pathogens. This ultimately stimulates the immune system and suppresses abnormal cells. Inulin is also beneficial for kidney health, blood sugar control and cholesterol reduction. Elecampane root aqueous extract has also been shown to possess anti-worm activity. The boiled water extracts of 32 species of raw herbs known to possess anti-worm activity were given orally to rabbits infected with the parasitic worm, Clonorchis sinensis. Suppression of egg-laying in the worms from the rabbits given Inula helenium was greatest. Many extracts did not induce physical changes in the worms, however, extracts of Inula helenium caused regressive and progressive changes such as degeneration, atrophy, necrosis and dilatation of viscera of the worms. The recovery rate of the worms from rabbits treated with elecampane root extract for 30 days, beginning at the 3rd day of inoculation, was as low as 2%, indicating that it could be used as an effective treatment against this parasitic worm.
For more information of product, please send the email to bkherb@globals-globals.com


After send online enquiry, we will reply you as soon as possible, if not get any response on time please contact us by Tel or Email.This form is unable to receive your inquiry from aol, hotmail, gmail or others but company email address.
E-MAIL:bkherb@globals-globals.com
TEL: +86 592 536 5868
WHATSAPP: +86 189 6516 2351